How to Cook the Perfect Ribs
By:
Toby Kuhnke, Editor, FaveSouthernRecipes.com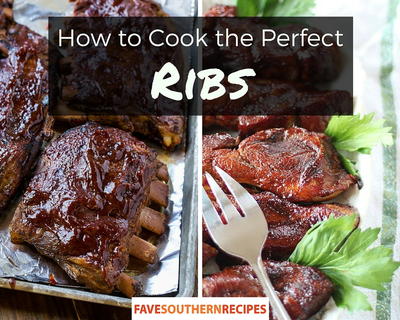 How to Cook the Perfect Ribs
Good ribs take time and patience, but any fan of ribs knows that it's totally worth it in the end. These tips for How to Cook the Perfect Ribs will help you take your favorite rib recipe from good to great! The reason that ribs are so delicious is because the meat next to the bones is always the best. It's tender and packed with all the meaty flavor most people look for when they make a pork recipe. No matter what sauces and rubs you choose for your rib recipe, these tips will make you a rib grilling master.

There are many popular methods for cooking pork, but follow these steps to make sure you end up with flavorful, savory ribs with fall-off-the-bone meat every time. Show off your new cooking skills at your next summer barbecue or cookout!
Take Your Ribs from Good to Great
Perfecting the Pork
Ribs are delicious no matter how you prepare them. Follow these easy tips and tricks to ensure your ribs turn out perfect every time.
Remove the Membrane: On the bone side of your ribs there will be a thin membrane. Just use a knife to cut into the membrane, and then it should come right off! Once the membrane is off, coat your ribs generously with the dry rub of your choice.

Oven vs. Grill: Both oven and grill have their pros and cons. Just make sure you follow instructions closely for whatever recipe you choose or you'll end up with tough, underdone ribs.

3-2-1 Method: This popular method for great ribs is simple. Cook the ribs for three hours. Then wrap them in foil and cook for two more hours. And finally, unwrap them and cook for one more hour at a higher temperature.

Is It Done?: There are several ways to tell if your ribs are done, but the most popular is the bend test. If you pick up your rack of ribs in the middle and they still feel flexible and rubbery, they are not done cooking. Making sure your ribs are completely done is important because underdone ribs will be tough and unappetizing.

The Bone Test: Another way to tell is by looking at the bones at the ends of the ribs. As the ribs cook, the meat at the ends of the racks will shrink a little bit, exposing the bones. Your ribs are done when the bones at the ends of your ribs are stick out about ¼ of an inch or so. 
Mastering the Rubs and Sauces
Everyone has a favorite rib rub recipe, and there truly is an infinite number of great ones out there. But choose wisely. The sauces and rubs you choose for your ribs can make or break your meaty creation. 
The Smoky Flavor: If you cook your ribs in the oven, you'll have less of that great smoky flavor, but don't worry you can always use liquid smoke or smoked paprika to get a similar effect.

Patience Is a Virtue: And it will give you great ribs, too. Different recipes will tell you to let the rub sit on your ribs for different amounts of time, but generally the longer the better.

Saucy Sensation: Most recipes tell you to add the sauce to the ribs towards the end of cooking them. 
Remarkable Rib Recipes
These five rib recipes are the last ones you'll ever need. Try them out at your next summer barbecue!
Subscribe to Our Free Newsletter
Free recipes, giveaways, exclusive partner offers, and more straight to your inbox!

Report Inappropriate Comment
Are you sure you would like to report this comment? It will be flagged for our moderators to take action.
Thank you for taking the time to improve the content on our site.