Southern Pecan Pralines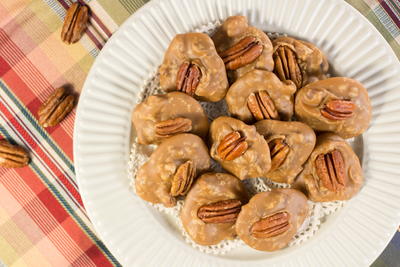 Southern Pecan Pralines
Impress your family and friends by making homemade candy with this pecan praline recipe. Southern Pecan Pralines are a deliciously sweet dessert that you can make entirely on your own stove. All you need are eight easy-to-find, store-bought ingredients to make this pecan candy. The hardest part about preparing these Southern Pecan Pralines will be waiting for them to cool down and to set before you can eat them. You'll always want to have this sweet, nutty confection on hand once you realize how easy they are to prepare.
Notes
---
---
Notes
If you do not have a candy thermometer, as the candy cooks, spoon a bit into the glass of ice water and see if it holds a ball shape. Test after cooking 18 to 20 minutes, but it may take as much as 25 minutes. The ball of cooked candy should be soft and pliable if you lift it out of the water between your fingers.


If you want more pralines but are working alone, it is best to make one batch at a time, not a double batch. The cooked candy hardens quickly so you must spoon it onto the paper and put the pecan on top very promptly before it hardens in the pan.


To clean the pan, simply fill it with hot water and let it sit until the candy melts before washing the pan. A non-stick pan works very well, but be sure it has a very heavy bottom so that the sugar does not burn.


As with many sugar-y confections, this recipe works best if it is not made on a rainy day! In candy making, the exact ratio of sugar and water is important and the humidity in the air plays a part. Too much moisture and a crispy candy will turn out soft; too little and the same recipe may crumble and not hold together properly, or the sugar crystals may become large and crunchy when that is not what you were hoping for. A day with 50-60% humidity is perfect. In extreme conditions, using a dehumidifier or air conditioner to help manage the moisture in the air in the kitchen can help. Storing the candy in a tightly-lidded container is also important for the same reason.
Makes20
Ingredients
1

1

/

2

cup sugar

1

/

2

teaspoon baking soda

1

/

8

teaspoon salt

1

/

2

cup buttermilk (not low-fat)
2 tablespoons corn syrup
2 teaspoons vanilla
1

1

/

2

teaspoon butter

2

/

3

cup coarsely chopped pecans
20-24 whole pecan pieces
Instructions
Prepare two baking sheets lined with waxed paper. Have all of the ingredients and supplies ready before beginning, including a candy thermometer or a glass of ice water.

Place the sugar, baking soda, and salt into a 3-quart heavy-bottom saucepan and add the buttermilk and corn syrup. Place over medium heat and stir constantly until the sugar is dissolved and the mixture comes to a boil, about 5 minutes. Continue to cook at a low rolling boil, stirring occasionally, until the candy reaches 232 degrees F on a candy thermometer, or tests at a soft-ball stage (see note), about 25 minutes. The mixture will foam and bubble as it cooks and the color should become a medium amber.

Remove from the heat and allow to cool for 10 minutes.

Stir in the vanilla and butter and stir until the mixture cools slightly, 1 minute. Stir in the chopped pecans and continue to stir 2 additional minutes.

Immediately scoop by the tablespoon onto the prepared waxed paper and top each praline with a whole pecan piece while it is still warm.

Let cool completely, then carefully peel from the waxed paper and store in an airtight container kept in a dry area; they will keep 3 to 5 days.
Subscribe to Our Free Newsletter
Free recipes, giveaways, exclusive partner offers, and more straight to your inbox!

Report Inappropriate Comment
Are you sure you would like to report this comment? It will be flagged for our moderators to take action.
Thank you for taking the time to improve the content on our site.