Homemade Cherry Mash Candy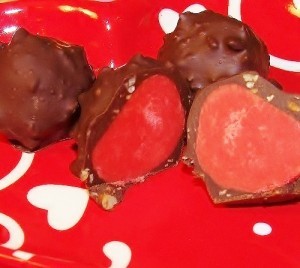 Homemade Cherry Mash Candy
Cherry mash candy is a classic American sweet, and with this recipe for Homemade Cherry Mash Candy, you can make you own version at home. This recipe is extremely easy to make, even if you do not know how to make candy. The cherry filling is prepared first and then cooled so that it can be shaped into balls. The balls of cherry filling are then dipped in a luscious chocolate and nut coating for crunch. Each bite of these homemade candies is divine, making them the perfect treat to share with loved ones for Valentine's Day! They're gorgeously red and festive, and chocolate is always an appropriate way to say "I love you."
Notes
---

For more homemade candy recipes like this one, be sure to check out our collection of 13 Homemade Christmas Candy Recipes.
---
From the Creator of Homemade Cherry Mash Candy
Lately, I have been reminded of dad often. It is not near his birthday or the day he passed, but for some reason I keep catching parts of old John Wayne movies, hearing Merle Haggard on the radio, glimpsing the swagger of a tall big man far ahead of me, or noticing the mirthful glint in my husband's blue eyes, all of which remind me of my dad. He complimented me every day, bought me flowers and candy every Valentine's Day, held the door for me, held my coat for me, and always stood when I, or any other female, got up from the dining table. His favorite candy was Cherry Mash and suddenly, I had to find and eat some!



My quest for Cherry Mash candy took me to several stores throughout the metro area where I finally found them. The taste was not as vivid as I remembered and there was an odd "waxy" taste as well. They weren't bad, just not as good. So, I decided I could make my own. I searched the Internet and didn't find a recipe. One blogger had something close, in that it was cherry and chocolate but it was more of a layered fudge with peanut butter involved and I wanted mine to look and taste like the real thing. For that, I needed to find cherry chips. It took a while but I was successful and there on the back panel was a recipe made with peanut butter in a layered fudge. Really? On the back of a bag of cherry chips? That's when I decided to do my own thing.



They were such a hit with my family, friends and co-workers I make them at least four times a year just to meet the demand. However, you can be sure I keep just a few in the freezer so every now and then when I am reminded of my dad, I can take a few out for myself and quietly remember the man who made such a great difference in my life.
- Kelli from Kelli's Kitchen
---
Subscribe to Our Free Newsletter
Free recipes, giveaways, exclusive partner offers, and more straight to your inbox!

Report Inappropriate Comment
Are you sure you would like to report this comment? It will be flagged for our moderators to take action.
Thank you for taking the time to improve the content on our site.