Nana's Fried Apple Hand Pies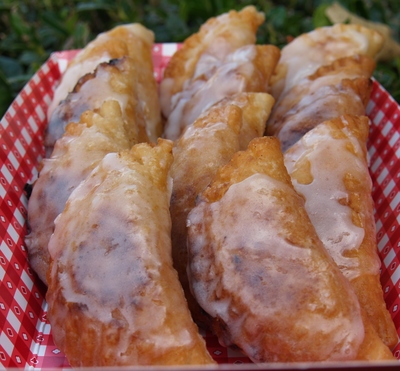 Nanas Fried Apple Hand Pies
This recipe for Nana's Fried Apple Hand Pies is sure to remind you of your childhood and time spent in your grandmother's kitchen. This hand pie recipe begins by cooking apples until they are tender and then mashing them to create the filling for the pies. The apple filling is spooned into circles of pie crust that are then folded over to create half-moon shaped pies. Fry these precious pies in a small amount of your favorite type of cooking oil before topping them with a sweet and sugary homemade glaze. This hand pie recipe is sure to become one of your favorite apple desserts. Nana's Fried Apple Hand Pies are sure to become one of the most treasured Southern comfort food recipes in your recipe box.
From the Desk of the Creator of Nana's Fried Apple Hand Pies

My fried apple hand pie is a recipe that I made up quickly one Saturday evening because Lawrence Welk happened to be on the TV. It was what Nana and I watched each Saturday night, right before Bewitched, while my Jim-Pa snored in the recliner. Something about that show brought those hand pies to mind so nothing would do until I got those hand pies made!

The first time I made the recipe, I was in a hurry and I could not find her crust recipe so I used refrigerated store bought pie crust. I made the apples exactly the way she taught me and I also fried them the same way. I make these about once a month to the complete joy and pleasure of my husband, mother, children, and grandson. The only way Mom likes it better is when I take dried apricots, rehydrate them, and use those instead of apples!

The only change I have made to the recipe is finally finding and using my Nana's original recipe for her pie crust dough—it's like a biscuit dough but not quiet. It's soft, tender and, comforting. I need to make a post about the dough now, don't I?  I love the smells of fried apple hand pies because it reminds me of my Nana. She always wore White Shoulders perfume whose fragrance has apple notes. Each time I make the pies it takes me back to standing in her hot, non-air conditioned kitchen, peeling those apples!

—Kelli from Kelli's Kitchen
Subscribe to Our Free Newsletter
Free recipes, giveaways, exclusive partner offers, and more straight to your inbox!

Report Inappropriate Comment
Are you sure you would like to report this comment? It will be flagged for our moderators to take action.
Thank you for taking the time to improve the content on our site.