7 Southern Punch Bowl Cake Recipes
This traditional Southern dessert is the perfect combination of elegance and ease.
By:
Kaitlin Weiler, Editor, FaveSouthernRecipes.com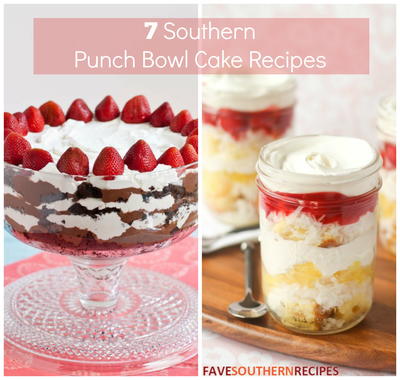 If you are interested in making homemade Southern desserts but don't want to spend all day in the kitchen, then Southern punch bowl cakes might be for you.

This collection of 7 Southern Punch Cake Recipes will show you the virtues of this classic Southern dessert. Layered punch bowl cakes are elegant and impressive, but assembling them couldn't be easier. Traditionally, to make Southern punch bowl cake, prepared or store-bought cake is cut up and layered with a pudding mixture, various types of fruit, and whipped cream.

There are variations between the different recipes, but these punch bowl cakes all have two things in common: they are delicious and impossibly easy to make.
7 Southern Punch Bowl Cake Recipes
Table of Contents
Traditional Punch Bowl Cake Recipes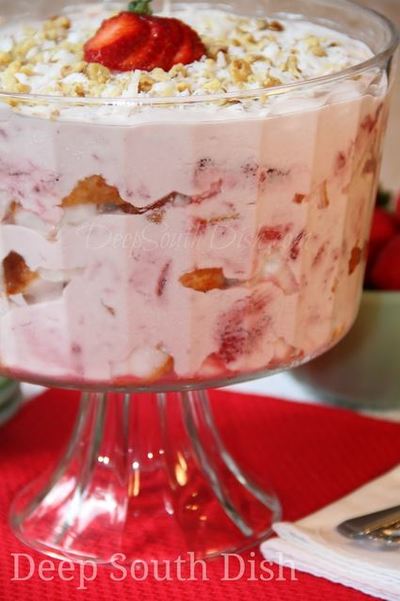 Other Recipes for Punch Bowl Cake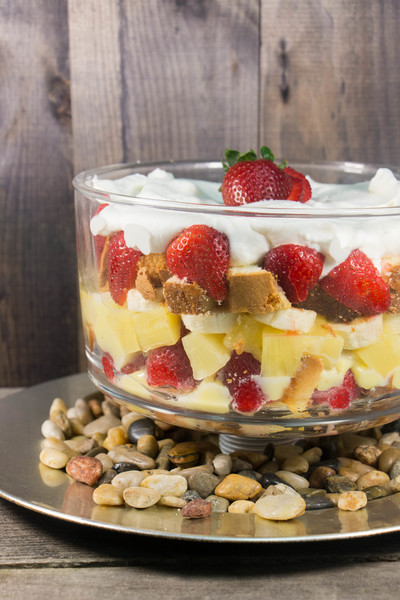 Southern Potluck Punch Bowl CakeMake a portable version of punch bowl cake with this recipe for Southern Potluck Punch Bowl Cake. Instead of using one large punch bowl, the cakes are layered in mason jars for the cutest dessert you could possibly imagine.
Triple Chocolate Punch Bowl CakeUnlike most Southern punch bowl cake recipes, this recipe features everyone's favorite sweet treat: chocolate! Double-chocolate cake is layered with chocolate pudding and whipped cream before getting topped with fresh strawberries.
Classic Punch Bowl CakeOur test kitchen version of Paula Deen's punch bowl cake is sure to please. Store-bought pound cake is layered with pudding and fruit to make this irresistible punch bowl cake. 
What's the Difference Between a Punch Bowl Cake and a Trifle?
Merriam-Webster defines "trifle" as "a dessert made of layers of cake, jam or jelly, and custard and topped with whipped cream." Since punch bowl cakes and trifles can both be described by this definition, the true distinction comes down to regional differences in vernacular.

In colonial America, the punch bowl was a status symbol and the size of the bowl corresponded with a family's societal importance. However, as glass punch bowls became more affordable, they became more common household items. Punch bowls played a large part in Southern culture, in that there was usually a punch bowl present at every social gathering from weddings to family gatherings to baby showers. Since it became so common for a household to own a punch bowl, these vessels became a sort of multi-purpose dish for both punch and desserts.

In the dessert recipe itself, there is essentially no true difference between a punch bowl cake and trifle. Rather, the "punch bowl cake" is a regional term that acknowledges the history behind the Southern punch bowl as well as its cultural significance in the South.
What does your family call this dessert - punch bowl cake or trifle? Let us know in the comments!
Subscribe to Our Free Newsletter
Free recipes, giveaways, exclusive partner offers, and more straight to your inbox!

Report Inappropriate Comment
Are you sure you would like to report this comment? It will be flagged for our moderators to take action.
Thank you for taking the time to improve the content on our site.