Sock It to Me Cake from Scratch
This classic Southern cake recipe will become your new favorite dessert!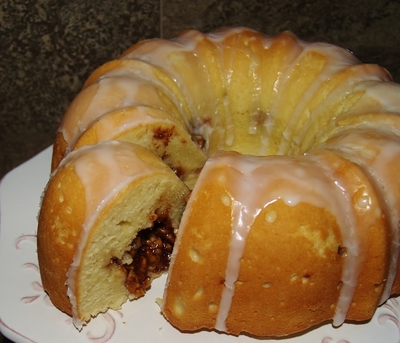 Sock It to Me Cake from Scratch
Everyone loves old-fashioned desserts, and this recipe for Sock It to Me Cake from Scratch is one of our favorites. Many versions of the Sock It to Me Cake recipe are made using cake mix, but this recipe is made entirely from scratch. This classic Southern cake recipe is extremely rich and satisfying. The buttery cake is complemented by a sweet filling made from brown sugar, nuts, cinnamon, and butter. If you are looking for a show-stopping dessert to serve for a special occasion, look no further than Sock It to Me Cake from Scratch.

Why is it called Sock It To Me Cake?

If you've been wondering why it's called Sock It To Me Cake, the phrase itself has quite the history. The phrase was first used in Aretha Franklin's 1967 version of the song "Respect," an Otis Redding original. In 1968, the phrase was made even more popular when it was used in Rowan & Martin's sketch comedy show, Laugh-In. Later on in the 1970s, Duncan Hines added a recipe for Sock It To Me Cake to the back of its Classic Butter Golden cake mix box, and the recipe has since become a Southern dessert staple!
Etymology of "From Scratch"
Whenever we hear the term "made from scratch," our tummies begin to rumble because we know that food "made from scratch" will be good quality and delicious, especially if it's made by Grandma. But have you ever wondered where the phrase "from scratch" came from?  In our modern definition of the phrase, it means that a meal was cooked with the fundamental ingredients all the way to the finished dish instead of, say, just adding water or an egg to a pre-packaged mix. You may be surprised at where the phrase originated. The scratch was actually the name of a mark at the center of a ring or stage where men would wrestle or fight one another. If a man could not get to the scratch fast enough, he would be pronounced the loser. In later years, the scratch transitioned to being the starting line of a race where the runner had neither advantage nor handicap. In terms of cooking, if someone were to make a recipe from scratch, he or she would have no advantage by starting out with just the essential ingredients and from the very beginning of the recipe.
Subscribe to Our Free Newsletter
Free recipes, giveaways, exclusive partner offers, and more straight to your inbox!

Report Inappropriate Comment
Are you sure you would like to report this comment? It will be flagged for our moderators to take action.
Thank you for taking the time to improve the content on our site.