7 Tips For Hosting A Great Brunch At Home
By:
Megan Horst-Hatch, Editor, FaveSouthernRecipes.com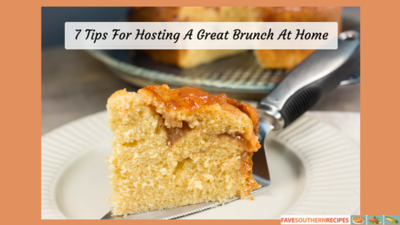 7 Tips For Hosting A Great Brunch At Home
With its balance of savory dishes and super-sweet coffee cakes, it's no wonder a hearty and tasty weekend brunch is a favorite tradition for many families. And if you're hosting brunch in your home, then you will want your guests to enjoy good food and great conversation in a relaxed atmosphere. If you want your next brunch to be a success, you'll need to do a little preparation before guests even arrive. From finding the best Southern recipes for brunch to keeping the beverages flowing, there's a lot to cover. Check out these 7 Tips For Hosting A Great Brunch At Home before hosting your next brunch.
There's nothing quite like spending a weekend morning surrounded by loved ones. If you want to show family and friends that you care, then you'll love including tasty brunch recipes on your menu. To get started in finding the right dishes for your events, take a look at
Plan Your Brunch
There's more to do with hosting a brunch than setting out a tray of coffee cake. Take a look at these tips on what you should do in the weeks leading up to your event.
Write A Guest List
Who is actually invited to brunch? Before you can plan your menu, you'll need to know who to invite, then follow up to find out how many people will attend. Visualize the space you plan to use for entertaining. Is there enough room to comfortably seat everyone, and do you have any space for serving your brunch spread? If the weather is favorable, you could always opt to set up a table outdoors in your backyard.

Find Make-Ahead Brunch Recipes
Whether you're hosting a casual get-together with just a few people or are holding a formal brunch in honor of a holiday or other special occasion, you'll want to prepare at least some of your menu in advance. Many breakfast casseroles, including egg-based dishes, as well as baked goods can be created the night before the big event. Do you have a slow cooker? It can cook your ham, grits, or oatmeal perfectly for your event. Finding the right make-ahead brunch recipes means you can spend more time with your guests and less time in the kitchen.

Plan Your Brunch Menu
How many dishes should you plan to prepare, anyway? While you don't need to go to the extreme of making enough to feed everyone on the block, you don't want guests to walk away hungry, either. With that in mind, Food Network's guide for serving brunch includes how many pancakes, eggs, and other items you should make per guest. You can adjust the menu based on your guests' dietary preferences, too. Incorporate the reason of the get-together in your planning, too. For example, Easter brunch recipes could include an assortment of egg dishes and carrot cake.

Balance Your Menu
It's tempting to pull out all the stops and only make an assortment of cinnamon rolls, coffee cakes, homemade doughnuts, and other sweet treats for your next brunch. However, you should consider dialing it back by offering variety on your brunch menu. Favorite Southern recipes like a savory egg dish, salad with dressing on the side, and perhaps an assortment of special cheese can provide some balance for your menu. Guests who are watching what they eat will also appreciate the option of having food that fits with their dietary needs.
Tasks To Do The Day Of Your Brunch
You've done some of the prep work for your brunch, but there's still more to do. These tasks are on your to-do list for the day of your event.
Organize Your Brunch Entertaining Space
Before your guests arrive, take some time to organize your entertaining space. Chairs, plates, and centerpieces should be set up before guests arrive, and your serving space should be clear of clutter. Condiments, including salt, pepper, and hot sauce, as well as extra napkins and utensils, should be within guests' reach.

Set Out Snacks
When you think of appetizers, you likely think of more formal dinners. But if you're not serving brunch for up to an hour after the guests are expected to arrive, then set out a few light snacks while everyone waits for the meal to start. Some options for brunch appetizers include a vegetable tray, hummus and pita bread, and baked cheese twists. As your guests may not have eaten at all that morning, they will appreciate having a few light items to snack on while you bring the brunch to the table.

Keep The Beverages Flowing
The food menu of your brunch might be your focus, but you can't forget about which beverages you'll serve, either. You can stick to the classics, like coffee, tea, juice, and water, so that everyone has plenty of options. If your brunch is in honor of a special occasion, consider adding to the festivities by making a pitcher of a specialty mixed beverage, including punch or a new twist on traditional sweet tea. Do your guests drink alcoholic beverages? Perhaps mixing a pitcher of mimosas or another light cocktail will be appreciated.
Even More Great Southern Brunch Recipes
Now that you're ready to plan your brunch, you'll want to take a look at these great Southern recipes that will be a hit with your family and friends.
Celebrate your mother by hosting an elegant soiree in honor for Mother's Day. If you need brunch menu ideas that will be special enough to celebrate one of the most special people in your life, then you will love the ideas included in the Top 10 Mother's Day Brunch Recipes
What is your favorite tip for hosting brunch at home?
Subscribe to Our Free Newsletter
Free recipes, giveaways, exclusive partner offers, and more straight to your inbox!

Report Inappropriate Comment
Are you sure you would like to report this comment? It will be flagged for our moderators to take action.
Thank you for taking the time to improve the content on our site.