5 Tips For Baking A Skillet Pie
By:
Megan Horst-Hatch, Editor, FaveSouthernRecipes.com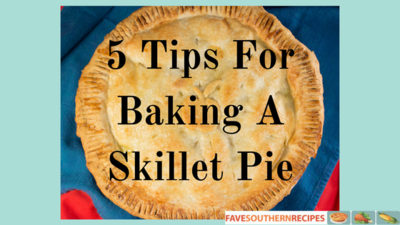 5 Tips For Baking A Skillet Pie
You've probably used your cast iron skillet to make the perfect omelet or to cook potatoes just right. But what about using that skillet to bake a pie? If you think you've heard the last word on baking pie, then you'll be in for a surprise. From selecting the right skillet to baking information, we have tips on how to transform your next pie into a skillet pie. You'll love the no-hassle approach to baking a delicious homemade pie as well as the opportunity to bake a pie that's perfectly baked, and your family and friends will be impressed with your skills. Grab your favorite ovenproof cast iron skillet, roll up your sleeves, and start baking after reading these tips we at FaveSouthernRecipes have compiled.
Tips For Baking A Skillet Pie
From knowing which equipment to details on where to place your skillet pie in the oven, we have tips on this new and fun twist on the traditional way to bake pie.
Use The Right Cast Iron Skillet
Don't just grab the first skillet you see and start baking. You want to make sure your skillet is completely ovenproof. It also needs to be seasoned and cleaned, especially if this is the first time you're using your skillet. Now let's talk skillet size. The website Cook's Illustrated recommends using a skillet that's 9 to 10 inches in diameter, which is similar in size to a traditional pie crust recipe.

Place The Pie On The Lowest Rack
Your days of making pie with doughy crust that's not-quite-baked are almost in the rearview mirror. Pies baked in a cast iron skillet can brown more evenly, resulting in a flaky crust you're sure to love. Just put your skillet pie on the lowest rack of your oven, and you're set!

Take Your Skillet Pie Outside
What are you bringing to your next tailgate party? While chips and dip, hamburgers, and salads are all standard party fare, consider upping the ante at your next tailgate party by baking a pie in a skillet on the grill. Everyone will flock to your car to check out your just-baked creation! As noted by Better Homes & Gardens, you can just place the skillet on the empty side of the grill. Don't forget to check on the pie and rotate it during the baking time, too.

Keep An Eye On That Pie
Making adjustments to your favorite pie recipe is all part of the baking process. For instance, you'll need to adjust how you assemble your pie. What's a baker to do? The website Cook's Illustrated recommends that you "divide the crust so that 60 percent is on the bottom to be sure it reaches all the way up the sides." The rest of the dough is placed on top of the filling. To ensure nothing spills over and onto your oven, place a lidded pan under the skillet. Take a look at your pie throughout the baking process, too, and don't forget to cover it with a pie shield or aluminum foil when the top crust starts to brown. Finally, jot down any changes you've made to the recipe so that you can replicate your success the next time you bake a skillet pie.

Take Care Of Your Skillet
Your pie is out of the oven, and every slice has been gobbled up. Think you're finished you're your skillet? Think again. Your cast iron skillet needs some tender loving care so that it can last for years to come. Making time to clean the skillet thoroughly in between uses and storing the skillet properly can go a long way to keeping your skillet ready for baking. By brushing up on how to season a cast iron skillet in between uses, you can keep your skillet in good condition. If it's possible, consider keeping one skillet dedicated for savory dishes and a second skillet just for desserts.
More Skillet Dessert Recipes To Try
Are you feeling inspired to try additional pie recipes in your skillet? Then it's time to get baking! Take a look at these tasty recipes and bake them in your favorite cast iron skillet.
What type of pie do you plan to bake in a skillet?
Subscribe to Our Free Newsletter
Free recipes, giveaways, exclusive partner offers, and more straight to your inbox!

Report Inappropriate Comment
Are you sure you would like to report this comment? It will be flagged for our moderators to take action.
Thank you for taking the time to improve the content on our site.