The Frugal Foodie: How to Save Money on Groceries
Saving money has never been easier with the help of these 10 grocery shopping tips.
By:
Natalie Taylor, Editor, FaveSouthernRecipes.com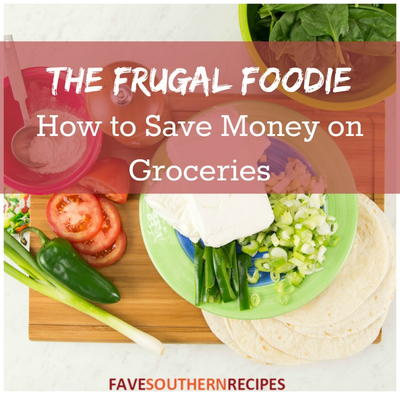 There's a wealth of information about ways to save money on groceries. We've done the work by sorting through the information for you! We've assembled this guide, The Frugal Foodie: How to Save Money on Groceries, so you can get the most for your hard-earned money. Below you'll find 10 grocery shopping tips as well as some of our favorite budget-friendly meals. If you've ever felt overwhelmed at the grocery store, then this guide is for you. The best way to save money is to make a list and stick to it - just like Mom always said. For more money-saving ideas, scroll down and learn the best ways to be a frugal foodie!
Buying fresh herbs every time a recipe calls for them can be an expensive habit. Learn how to get the most use out of your herbs with our guide, How to Store Fresh Herbs
How to Save Money on Groceries
Make a list – Taking the time to plan out a list will help you save money because you'll be less likely to add impulse items to your cart if you have a plan. If you return home after a shopping trip only to find that you don't know what to make with those ingredients, never fear! A great way to avoid this is to choose the recipes you want to make that week and buy those particular ingredients.

Read the grocery store flyer – It's the easiest way to know what's on sale for a given week. Make your grocery list as you look though the flyer for deals. It's also a convenient way to find coupons.

Don't shop hungry – Your eyes really are bigger than your stomach, which is why shopping on an empty stomach will cost you. It's a good idea to go grocery shopping shortly after you've eaten a meal. If that doesn't work with your schedule, eating a quick snack before you go would also help.

For easy snack ideas, check out these On-the-Go Snacks!

Cut and slice your own produce – While not as convenient, cutting up your own fruits and vegetables is much cheaper than buying them precut. Produce will also be fresher!

Learn the best way to cut a pepper with our how-to video, How to Cut a Pepper.

Don't assume buying in bulk is better – Some items like spices and nuts can get stale rather quickly. Unless you have a plan for how to use that item, you may end up throwing that food away down the line. It depends on the item and your usage of the product if it will actually save you money to buy in bulk.

Buy produce when it's in season – Produce that's out of season costs more because it came from a further distance and you're paying for the transportation. Fruits and vegetables are also fresher and taste better when you buy them in season.

Avoid the inner aisles – The inner aisles are where you'll find packaged foods, which can be pricey. Around the perimeter of a grocery store, you will find the essentials like milk, bread, meat, and fresh produce. You're more likely to buy wholesome ingredients, while also avoiding the high prices of packaged foods, if you shop along the perimeter.

Save even more money by making your own bread at home! Try one of these Southern Recipes for Bread: 15 Easy Bread Recipes.

Consider generic options – Generic brands are often comparable to their brand name counterparts, which can save you a lot of money. Sometimes, generic brands even use the name-brand items, but package them with generic labels. However, you may still want to compare the labels so you know exactly what you're buying.

Know where to look – Did you know that grocery stores place the most expensive items on shelves that are at eye level? Grocery stores know that that is the first place shoppers look. To find cheaper items, look at the shelves that are above and below eye level.

Pay attention at the register – As you're checking out, pay attention to prices as your items are being rung up. Make sure that the items you thought were on sale are ringing up as such. It can also remind you of coupons you might have forgotten to give the cashier.
Budget-Friendly Recipes
Now that you've learned the best ways to save money when shopping for groceries, try these budget-friendly recipes. These recipes taste delicious, but won't break the bank.
Subscribe to Our Free Newsletter
Free recipes, giveaways, exclusive partner offers, and more straight to your inbox!

Report Inappropriate Comment
Are you sure you would like to report this comment? It will be flagged for our moderators to take action.
Thank you for taking the time to improve the content on our site.