The Best Oils for Cooking: Essential Cooking Oil Guide
Learn all about the different types of cooking oil and when to use them!
By:
Natalie Taylor, Editor, FaveSouthernRecipes.com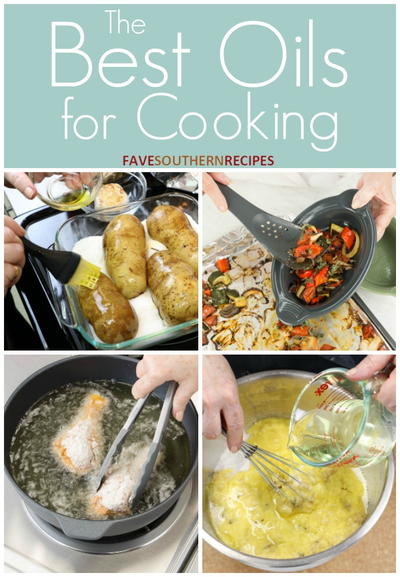 Have you ever read a recipe that called for "cooking oil" and you weren't sure what to use?

We have developed this guide, The Best Oils for Cooking, to demystify one of the most common ingredients in your kitchen cabinet.

The aisle of cooking oils at the grocery store can be overwhelming even if you know exactly what you're looking for, so we have outlined everything you need to know about cooking oil below.

In our guide, you'll find information about smoke point, the most common types of cooking oils, which oil to use based on your method of cooking, and safety tips.

Whether you're headed to the grocery store and you're not sure which oil to buy, or you want to branch out from your standard vegetable oil, our guide is sure to help!
Table of Contents
Common Types of Cooking Oil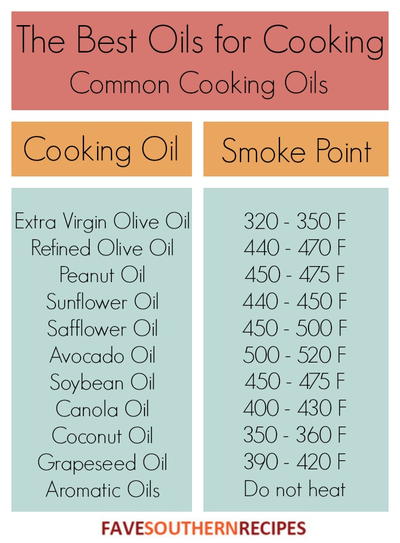 When choosing a type of oil, you will want to consider the flavor, as well as the smoke point, because some oils have a neutral taste while others are more flavorful. Some of these oils also have longer shelf lives than others, so consider how frequently you'll actually use a particular oil.
Note: the smoke points provided are approximate estimates, as smoke point is affected by many factors including the age of the oil, the purity of a batch, method of refinement, etc.
Extra Virgin Olive Oil

Smoke point: 320 – 350 degrees F

To be called "extra-virgin" the oil must come from the first stage of extraction, known as cold pressing. Since this oil is very gently processed, the flavor of the oil is very dependent upon the type of olives it is made from.
Refined Olive Oil

Smoke point: 440 -470 degrees F

Also known as "light" olive oil which actually refers to the amount of flavor, rather than the amount of calories. In this stage of extraction, heat or chemicals are used, which allows the olives to produce more oil, but also less flavor.
Peanut Oil

Smoke point: 450 – 475 degrees F

Refined peanut oil has a fairly mild flavor and a very high smoke point, which makes it great for deep frying. It does cost more than vegetable oil, but there is a lower risk of the oil breaking down in high heat.
Sunflower Oil

Smoke point: 440 – 450 degrees F

Sunflower oil is very light and neatly odorless and flavorless. It is extracted from sunflower seeds. This oil is sometimes included in "Vegetable" oil blends along with soybean and safflower.
Safflower Oil

Smoke point: 450 – 500 degrees F

While related to the sunflower (and sunflower oil), safflower oil is extracted from the seeds of safflowers and has a higher smoke point. This oil is very mild and has a very light, golden color. It is also nearly odorless and flavorless. You can also find safflower oil in some "Vegetable" oil blends along with soybean and sunflower oil.
Avocado Oil

Smoke Point: 500 – 520 degrees F

It has a higher smoke point than olive oil, which makes it useful for high heat cooking. The oil has a mildly nutty flavor and is versatile enough to be used in dressings as well as high heat cooking.
Soybean Oil

Smoke point: 450 – 475 degrees F

Usually marketed as "Vegetable" oil in grocery stores, this oil has a high smoke point, which makes it a great multipurpose oil. It has a noticeable flavor and aroma and is used frequently in processed foods.
Canola Oil (Rapeseed oil)

Smoke point: 400 – 430 degrees F

Made from rapeseeds (seeds of the rape plant), canola oil is affordable, and has a light nutty flavor. It is a very versatile oil that is great for most types of cooking, with the exception of deep frying.
Coconut Oil

Smoke point: 350 – 360 degrees F

Coconut oil has a signature sweet flavor, so if you're looking for a neutral flavored oil, this is not a good choice. However, the sweet flavor works well for sautéing and tastes good in baked items. It is frequently used as a substitute for butter.
Grapeseed Oil

Smoke point: 390 – 420 degrees F

Grapeseed oil is made from the seeds of grapes and must be chemically extracted because the seeds yield very little oil. While the smoke point is fairly high, the oil breaks down easily which can create undesirable flavors.
Aromatic Oils – These oils are more expensive and should only be used for salad dressings or as finishing oils - they shouldn't be exposed to heat. They can also go rancid rather quickly, so it is actually best to store them in the refrigerator.

Walnut Oil, Hazelnut Oil, Toasted Sesame Oil
Healthiest Cooking Oils

The healthiest cooking oils are those that contain healthier fats like monosaturated and polyunsaturated over bad fats like saturated and trans fats. Generally, using any sort of vegetable oil is going to be much healthier than solid fats like lards and butters or tropical oils (palm, coconut, etc.).

The following oils are considered the healthiest oils to cook with out of the vast array of cooking oil options. Just remember, even if something is considered "healthy" it is important to consume in moderation:

1. Corn
2. Canola
3. Olive
4. Sunflower
5. Soybean
6. Saffflower
7. Peanut
What is a Smoke Point?

A smoke point is the point in the heating process when the oil begins to break down. At this point, the oil begins to smoke and has negative effects on the flavor and the nutrition of the oil. Once at the smoke point, the oil can also catch on fire rather quickly.

However, there is no precise smoke point for any given type of oil, which is why oil's smoke point is often listed in a temperature range. Smoke point is difficult to define because the exact moment at which oil begins to smoke can be nearly impossible to spot.
Why shouldn't oil be heated past its smoke point?

When oil is heated past its smoke point, it can give food an unpleasant and burnt taste. Exposing an oil to heat that is past its smoke point also destroys valuable nutrients and creates free radicals.
What factors impact oil smoke point?

The longer an oil has been exposed to heat, the lower its smoke point will become. That means that fresher oil will have a lower smoke point – so if you're in the habit of reusing frying oil or you have a bottle of oil that's been sitting in the cabinet for six months, keep in mind that an oils smoke point will gradually degrade over time.

Another important factor is refinement: the more refined an oil is, the higher the smoke point it will have. The process of refinement removes the ingredients that cause an oil to smoke. Levels of refinement can also vary across different brands and even batches, which is another reason why smoke point is often given in a temperature range.
Best Oils for Cooking For High Heat

If your recipes calls for a high heat oil or needs to cook for especially long, you will need to find the right oil to cook at higher temperatures. The best oil for cooking high heat recipes is one with the right smoke point.

If you're frying at a high temperature, consider peanut, avocado, seasme, peanut, or palm.

If you're sauteing, olive oil works well. If you'd prefer a more organic option, canola, avocado, grapeseed, and seasme are great options
The Best Oils for Each Cooking Method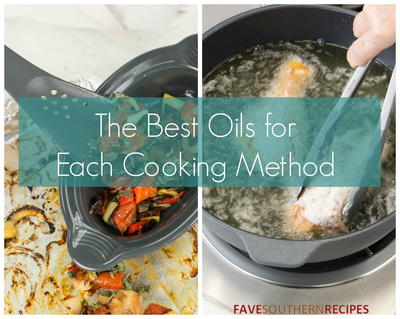 The appropriate oil really depends on what sort of cooking you are doing. As seen above, cooking oils all have different smoke points, which means that they all serve different purposes. We've outlined the best oils to use according to cooking method as well as the ones you should avoid.
Oil Safety Tips

1. Check food periodically for burning.
When roasting foods, check on it periodically to prevent burning. If you have to leave the kitchen, be sure to set a timer to keep track of cooking time.
2. Never leave frying food unattended.
Always stay in the kitchen when frying, and stand nearby. You never want to leave hot oil unattended in case something starts to burn or the oil gets too hot.
3. Watch out for smoke.
If the oil begins to smoke (which means it's too hot) turn off the stove and remove the pan from the burner.
4. Never put an oil fire out with water.
If your oil catches fire, never try to put it out with water because that can make the fire spread. Instead, cover the pan with a lid and turn off the burner. Only when the pan has cooled completely should you remove the lid.
What's your go-to cooking oil?
Subscribe to Our Free Newsletter
Free recipes, giveaways, exclusive partner offers, and more straight to your inbox!

Report Inappropriate Comment
Are you sure you would like to report this comment? It will be flagged for our moderators to take action.
Thank you for taking the time to improve the content on our site.