Southern Guide to Holiday Menu Planning
Become a pro at holiday menu planning with our easy-to-follow guide.
By:
Natalie Taylor, Editor, FaveSouthernRecipes.com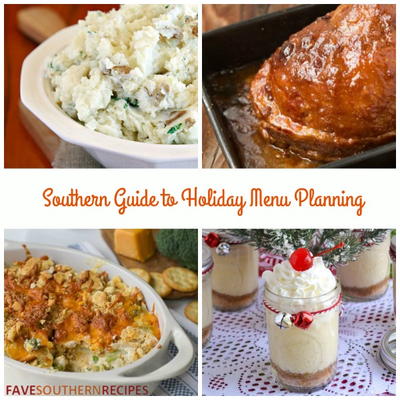 The holidays are always a joyous occasion filled with friends, family, and amazing food. However, this special season is not without its stress! We've created this Southern Guide to Holiday Menu Planning to help you get organized and still have fun this holiday season. Whether you've never hosted a holiday meal or you're a seasoned pro, this collection of tips and tricks will make your special dinner a success. No holiday meal plan would be complete without some delicious holiday meals, would it? That's why we've also included some of our favorite recipes for Thanksgiving and Christmas.

Don't let the stress of the holidays make you forget about this magical time of year! As long as you're with friends and family the season is sure to be a success, especially if there's great food too. So follow our simple guide and enjoy this special season. Happy cooking!
For delicious recipes that are perfect for Easter brunch, check out our free and downloadable eCookbook,
Southern Guide to Holiday Menu Planning
Tips for Holiday Menu Planning
Carefully choose the types of recipes you make – If you're making several recipes at once, it will help if you choose low maintenance recipes. To save both time and oven space, consider making a side dish that cooks at the same oven temperature as your main dish.

Make at least one dish you've prepared before and that you really love – This will cut down on some of the stress of cooking a big meal. You'll know that at least one dish will turn out great.

Gather your recipes – Having all of your recipes in one place will help you get organized. Whether you prefer to print out your recipes or you like to read them on a tablet, putting them in one central place will help the process go much more smoothly.

Buy your groceries early in the week – This way you will avoid much of the holiday rush. Also, the sooner you go, the less likely it will be that the grocery store will run out of the ingredients you need. You'll be less likely to miss something on your list because the store will be less hectic.

Make things ahead of time – Chopping vegetables and measuring out ingredients will help save time when it comes to actually making the recipe. You can also make certain desserts and side dishes ahead of time.

Prepare your workspace – On the day of the big meal, it will save you a lot of time and stress if you get out the pots, pans, bowls, and measuring cups you'll be using. Never again will your potatoes boil over while you're frantically searching for a potato masher.

Feel free to take some shortcuts – Using shortcuts like canned yams or rotisserie chicken will help save you time and effort. Since there is less active cooking time, it will be less likely for those recipes to burn or get overcooked.

Ask your guests to bring a dish to pass – if you feel guilty asking guests to bring something, you shouldn't! Most people are more comfortable when they arrive with something. Besides, asking someone to bring rolls or a dessert might even save you an extra trip to the grocery store.

Relax! – It's so easy to get caught up in the hustle and bustle of the holiday season and forget what matters. The most important thing is spending time with people you care about. If the meal doesn't turn out the way you wanted, it's not the end of the world.
Southern Recipes for the Holidays
Now that you know the basics of holiday meal planning, get inspired with these easy Southern recipes. Thanksgiving as well as Christmas dinner will be so easy to plan with the help of these recipes.
Subscribe to Our Free Newsletter
Free recipes, giveaways, exclusive partner offers, and more straight to your inbox!

Report Inappropriate Comment
Are you sure you would like to report this comment? It will be flagged for our moderators to take action.
Thank you for taking the time to improve the content on our site.