Southern Biscuits Guide: How to Make the Best Biscuits
Learn about different types of biscuits, tips for making them, and much more!
By:
Natalie Taylor, Editor, FaveSouthernRecipes.com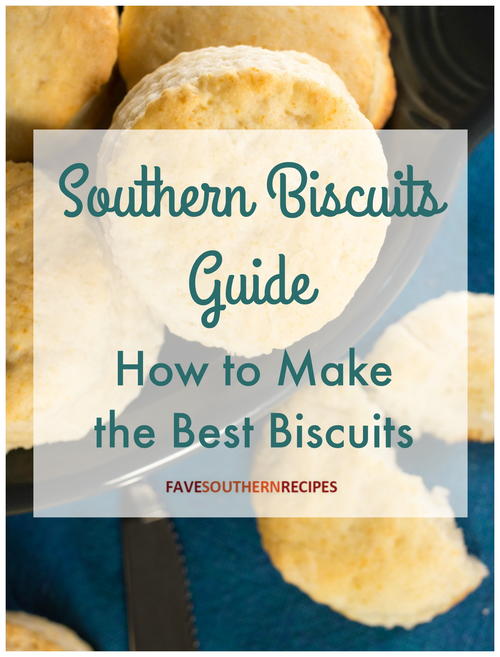 No Southern menu is truly complete without a homemade biscuit. If you've ever followed a biscuit recipe to the letter and your biscuits have still fallen flat, don't fret. Despite their short ingredient list, biscuits can be challenging to make! Southern biscuits are more about the technique than the recipe.

Before the Civil War, biscuits were usually only eaten on Sundays or special occasions because soft winter wheat flour was difficult to come by. As flour became more readily available, biscuits were eaten much more frequently and have become a large part of Southern culture.

Today, Southern biscuits are known for their soft, flaky texture and buttery flavor. However, they have changed a lot to become what they are today. In the South, hardtack (a hearty cracker that was eaten by sailors and soldiers) evolved into the beaten biscuit, made without a leavener so beating the dough was necessary to make the biscuits rise.

It is also worth noting that in some countries such as England, a "biscuit" is actually a cookie, whereas a biscuit in the American South resembles a British scone.

Now that you know a bit about the history of biscuits in the South, it's time to make some! Read on to learn about the different types of biscuits, how to make them, and get tips and tricks for making the best biscuits.
Skills to Know for Making Biscuits
Measuring Ingredients - The best method for measuring dry ingredients is the scoop and sweep method. Simply add your dry ingredient to your measuring cup and sweep off the excess with a kitchen knife. To see a demo, check out this video from our sister site, RecipeLion.

Cutting in Butter - The easist way to cut butter into biscuit dough is to use a grater. Using a stick of frozen butter will make it even easier to grate the butter into uniform shreds.

Kneading Dough - Biscuit dough is much softer than yeast bread dough, so the method of kneading is also much gentler. When in doubt, it is better to have kneaded too little than too much.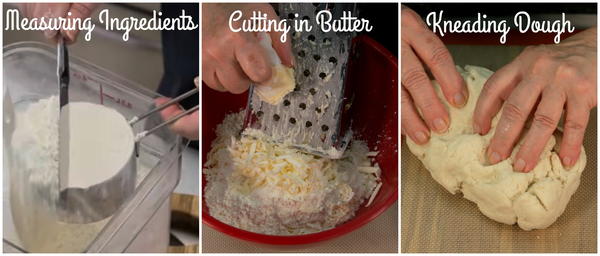 Essential Ingredients and Materials
Ingredients
Flour (All-purpose, Self-Rising)
Baking Soda and/or Baking Powder
Fat (Butter, Shortening, Lard, Cream Cheese, Sour Cream)
Liquid (Milk, Buttermilk, Heavy Cream, Water)
Optional: Sugar, Salt

Materials
Mixing Bowl
Pastry Cutter or Fork
Rolling Pin
Biscuit Cutter or a Glass
Baking sheet
Optional: Food Processor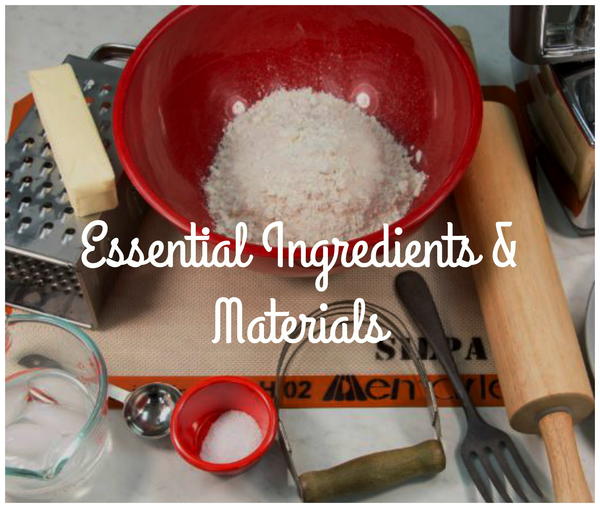 Types of Southern Biscuits
For our purposes, the two main types of Southern biscuits are cut biscuits and drop biscuits. While there are nearly as many different variations on biscuit recipes as there are Southerners, there is a clear distinction in technique between these two types of biscuits.
Cut Biscuits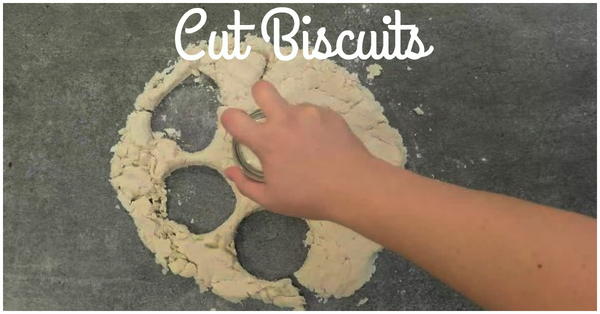 To make this type of biscuit, dough is cut out with biscuit cutter (or a knife or a glass) before it is baked. However, the dough does not have to be kneaded. Depending on the recipe, biscuit dough can either be kneaded and then flattened with a rolling pin or it can simply be patted into a sheet of dough.

+ Kneaded Cut Biscuits – Kneading helps the ingredients in the dough to bind together which creates a more structurally-sound biscuit. The technique used for kneading biscuit dough is gentler than the type of kneading used for yeast bread. Once the biscuit dough comes together, it is usually folded and flattened multiple times. This folding technique is what creates flaky biscuits.

Nikki Gladd from Seeded At The Table says:

"For that perfect flaky texture, avoid over-handling the dough. Be gentle and your biscuit will be light and fluffy in return!"


How to Knead Biscuit Dough
Step 1: Turn the dough onto your countertop and work the dough until it starts to come together.
Step 2: Flatten the dough on your countertop.
Step 3: Fold the dough in half and flatten again. Repeat about 5-10 times.
Step 4: Pat the dough flat or gently roll it with a rolling pin.

To try this technique on an actual recipe, try our Test Kitchen recipe below.

Classic Buttermilk Lard Biscuits [Full Recipe]

Prep Time: 20 minutes
Cooking Time: 15 minutes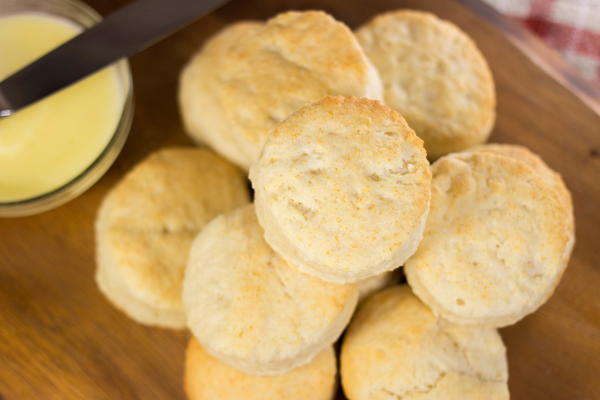 Ingredients
2 cups all-purpose flour
1 tablespoon baking powder
1/2 teaspoon kosher salt
1/3 cup shortening, frozen
2/3 cup chilled buttermilk

Directions
Preheat the oven to 450 degrees F. Place rack into center of oven. In a large bowl, whisk together the flour, baking powder, and salt.
Cut the shortening into the flour with a pastry cutter or fork until it looks like small peas. Make a well in the center of mixture, add the buttermilk, and stir gently with a folk or spatula around 10 to 12 times until combined.
Place the dough on a lightly floured surface. Roll out the dough into a rectangle that is 3/4-inches thick. Fold the dough in half. Roll out and fold again, repeating the process three more times.
Roll the dough out to ½-inch thickness. Cut with a 2 ½-inch biscuit cutter. Place the biscuits on a parchment lined baking sheet. Bake until the biscuits are golden brown, around 12 to 15 minutes. If desired, brush the baked biscuits with melted butter.
For a printable version of this recipe,
click here
.
+ Non-Kneaded Cut Biscuits – Kneading is not required for all types of cut biscuits. The dough can simply be patted together on the counter. Non-kneaded biscuits have a softer, more crumbly texture than kneaded biscuits. However, they don't have the layers of a kneaded biscuit.

Watch the patting technique in the video below for Secret Recipe Buttermilk Biscuits.
Tips for making cut biscuits:
When placing cut biscuits on a baking sheet, make sure the edges touch. This actually helps biscuits rise and keeps the edges soft. However, if you prefer crisp sides, keep them an inch apart.
To avoid wasting any biscuit dough, use a knife to cut them into squares. They won't look as traditional, but they will rise the same as round cut biscuits. You also won't have to re-roll the dough (to use up the scraps) and run the risk of overworking the dough.
When cutting out biscuits with a biscuit cutter, push straight down and pull straight back up. Don't twist the cutter as that will seal the layers together and make it difficult for the biscuit to rise.
Drop Biscuits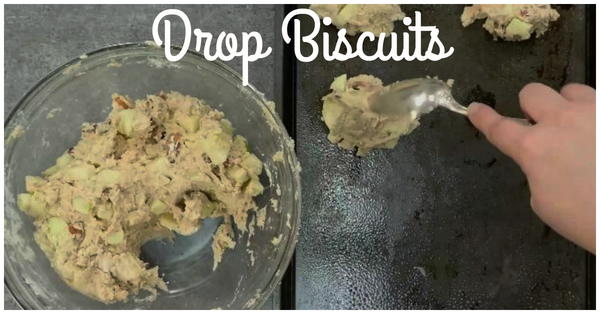 If you are a beginner cook and want to dip your toe in the world of making biscuits, drop biscuits are a great place to start. It's a great way to learn how to cut in butter and experiment with the temperature of your ingredients, without the added difficulty of kneading or cutting. Drop biscuits get their name from the method they're made. Once the liquid has been added and the dough has been stirred, it is literally dropped in spoonfuls onto a baking sheet. Drop biscuits will not rise as high as cut biscuits.

To see this method in action, watch the below video for Best Bisquick Drop Biscuits.
Tips for making drop biscuits:
To give your drop biscuits a uniform size and shape, use an ice cream scoop to put the batter on a baking sheet.
If you don't have a pastry cutter, a food processor can be used instead. This is a quicker way to combine the cold butter with the flour. Since drop biscuits are not kneaded or rolled, using a food processor ensures an even texture.
Biscuit Ingredients: What Effect Do They Have?
Baking Powder vs. Baking Soda    

Baking powder and baking soda are both chemical leaveners – they make baked goods rise – but in many biscuit recipes they are both used. Why is this?

Baking soda neutralizes acid while also causing your baked good to rise. Baking powder is actually a combination of baking soda and an acid (homemade versions use cream of tartar as the acid). Sometimes baking powder is also used because, while baking soda neutralizes the acid in the dough, it isn't enough to make the dough rise. It just gets an extra push from the baking powder.

According to food scientist Brian Geiger, baking powder is especially important in recipes that use buttermilk for flavor. Without baking powder, the baking soda would completely neutralize the acid in the buttermilk and you would lose the tangy flavor of the buttermilk.

Buttermilk vs. Heavy Cream

While many Southern biscuits call for buttermilk, some recipes use heavy cream. Since heavy cream has more fat, it creates a biscuit with a texture that is crumbly rather than flaky. Many recipes that are made with cream don't require butter. This is because heavy cream acts as both the fat and the liquid, so butter is sometimes unnecessary!

Don't have buttermilk? Click the image below to learn how to make a substitute: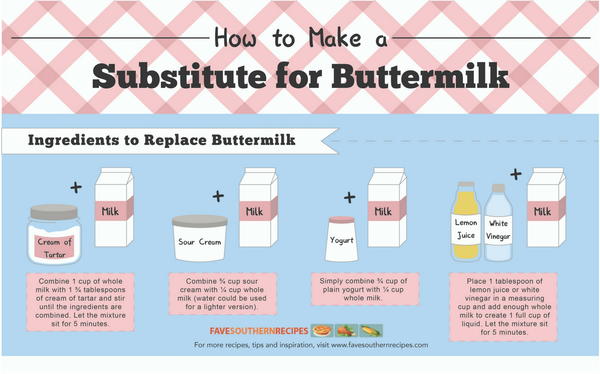 All-Purpose Flour vs. Self-Rising Flour

Self-rising flour is all-purpose flour with baking powder and salt already mixed in.

While self-rising flour is much more convenient, you lose the control over the exact amounts of baking powder and salt. Depending on the brand of flour, you can get very different results.

The best choice is to use a classic biscuit recipe (one that calls for all-purpose flour, baking soda and/powder) rather than using a homemade substitute in place of self-rising flour.

Don't have self-rising flour? You can make a substitute! Click the infographic to download a free copy: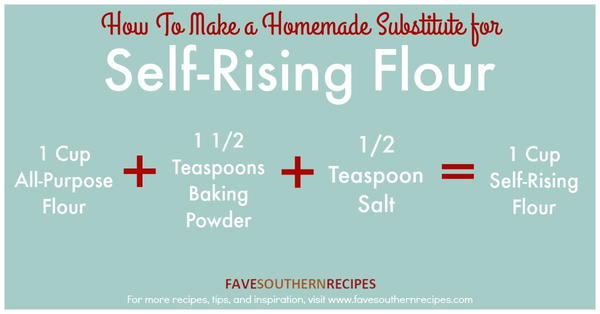 Bonus Biscuit Tips
The best way to split a biscuit is to use a fork and poke it all the way around the edge rather than using a knife to slice it. Using this perforation method gives you two equal halves without smashing the soft center.
 
Keep a few sticks of butter in the freezer. That way you always have butter that can be used for grating. To make the flakiest biscuit, the butter should be as cold as possible. The "pockets" of butter will melt as the biscuits bake and create the flaky layers.
 
Over-mixing is one of the easiest mistakes when it comes to making biscuits. When dough or batter is over-mixed or over-kneaded, it actually activates gluten which gives an unwanted tough texture to biscuits. When a recipe says "stir until just mixed" or "knead X amount of times" follow that step to the letter and your biscuits will have a wonderfully light texture. However, over-kneading won't completely ruin your biscuits, according to this article.
 
Let buttermilk or heavy cream come to room temperature before adding it to your dough. When mixed into the dough, room temperature buttermilk or heavy cream will combine more easily with the other ingredients while also trapping air. This extra air creates a light, tender texture. Letting your milk or cream sit on the counter for 30 minutes is enough to take the chill off. Just remember: this doesn't apply to butter! Butter should be as cold as possible.
 
If your biscuits are burnt on the bottom, your baking sheet may be to blame. According to MarthaWhite.com, dark cookie sheets absorb heat and cause biscuits to over-brown. To prevent this, try using a baking sheet with a lighter-colored coating.
Once you've mastered homemade biscuits, try your hand at another Southern staple: Cornbread! Check out our guide for the best tips and tricks: How to Make Cornbread
What's your favorite type of Southern biscuit?
Subscribe to Our Free Newsletter
Free recipes, giveaways, exclusive partner offers, and more straight to your inbox!

Report Inappropriate Comment
Are you sure you would like to report this comment? It will be flagged for our moderators to take action.
Thank you for taking the time to improve the content on our site.