Kitchen Safety: How to Avoid Injuries in the Kitchen
By:
Natalie Taylor, Editor, FaveSouthernRecipes.com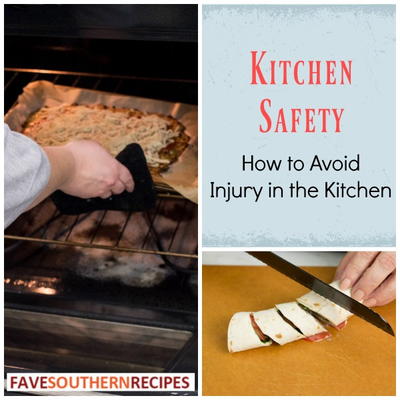 Nothing ruins the fun of cooking more than an injury. One minute you're excited to be cooking and the next you're on the floor because you slipped in water on the kitchen floor. Because cooking involves knives and heat, there is always a small amount of risk that comes along with cooking. However, with a few precautions, you can enjoy cooking without the fear of getting hurt. We have assembled this helpful guide of cooking safety tips, Kitchen Safety: How to Avoid Injuries in the Kitchen, to keep you safe while creating a culinary delight. Cooking can be a rewarding experience with delicious results, so don't let the fear of kitchen accidents keep you out of the kitchen!

Cuts, burns, falls, and fires are no longer an obstacle with the help of our simple guide. Whether you're a novice cook or an experienced chef, accidents can still happen to the best of us. That's why it's good to be reminded of safety tips, so you can feel safe no matter what you try in the kitchen.
How to Avoid Injuries in the Kitchen
To Avoid Cuts
Knives and sharp objects are essential tools in the kitchen, but that doesn't mean they aren't dangerous. However, by following these simple tips, you can slice, chop, and dice to your heart's content.
Keep your knives sharp - Contrary to popular belief, dull knives are actually more dangerous than sharp ones. If your knife is dull, it is more likely that the knife will slip and cut you, rather than the food you're trying to cut.

Learn how to use a knife - Using a proper cutting technique: Hold the food with your non-dominant hand and hold the knife in your dominant hand. Remember, cooking isn't a race so feel free to go slow if you need to.

Use a cutting board - In an effort to cut down on the amount of dishes you have to wash, it may be tempting to skip the cutting board. The downside is that your cutting surface will be more unstable, which makes it more likely that the food will slip from your grasp and you'll end up cutting your hand.

Think before you act - While your reflex may be to catch that falling knife or keep that spoon from falling down the garbage disposal, these quick reflexes can result in injury. Even something as simple as brushing against the blade of a blender can lead to a bad cut. In the long run, it's much more important that you protect yourself rather than your possessions!
To Prevent Slips and Falls
While most of your focus is at counter level when you're cooking, there is a hidden danger on the floor. Luckily there are several precautions you can take to avoid slips and falls.
Wipe up spills immediately - Anything from water to rice can potentially cause you to slip and fall, so be aware of any potential spills.

Wear practical shoes while cooking - It can be tempting to go barefoot while cooking, especially if you're cooking at home. However, it is a good idea to wear shoes with good traction to prevent any slips.

Use a kitchen ladder - When reaching for something in a tall cabinet, falls are very likely. Rather than straining to reach something, it is safer to use a kitchen ladder instead of climbing onto the counter.
To Prevent Burns
Burns are bad news. Never fear -- because with the help of these tips, you can easily prevent kitchen burns.
Always use potholders or an oven mitt - If there is even the slightest possibility that a pot or pan could still be warm, it is a good idea to use a potholder. That being said, oven mitts can be higly flammable so don't leave them too close to the heat or a flame.

Push pot handles away from the front of the stove - One of the easiest ways to prevent burns is to push the handles away from the front of the stove. Accidentally running into a pan could splash hot food on you, which could lead to a bad burn.

Don't wear loose clothing - Loose sleeves can be dangerous while cooking because they could brush a hot burner and catch fire. Push up your sleeves to avoid dragging them through anything hot.

Beware of steam - Although you might think of steam as being dangerous, it still has the potential to burn you. If you're pouring boiling water off of pasta, avoid letting the steam come in contact with your hands. A easy solution for this would be to pour the pasta directly into a collander in the sink and letting the water drain out.
To Prevent Fires
One of the worst things that can happen in your kitchen is a fire. That's why we've collected these tips so you can prevent a kitchen fire at all costs.
Never leave food unattended - Unless it is a slow cooker recipe, you should never leave food cooking unattended. The food could boil over or could start to burn, which could quickly lead to a fire.

Never leave extra objects on the stove - It's good to get in the habit of keeping the stove clear of extra objects such as potholders and kitchen towels. You never know when the stove could be turned on accidentally and it's better to be safe than sorry.

Never attempt to put out a grease fire with water - Water is one of the worst things you could try to use on a grease fire because it actually makes the fire spread. Instead of using water, try smothering the fire with a lid or baking soda.

Learn how to use a fire extinguisher - It's good to be handy with a fire extinguisher just in case a fire breaks out. However, if the fire is getting out of control, don't hesitate to call the fire department. It's always better to be safe than sorry!
Do you have a kitchen safety tip?
Subscribe to Our Free Newsletter
Free recipes, giveaways, exclusive partner offers, and more straight to your inbox!

Report Inappropriate Comment
Are you sure you would like to report this comment? It will be flagged for our moderators to take action.
Thank you for taking the time to improve the content on our site.