How to Use a Cast Iron Skillet
Everything you need to know about using a cast iron skillet!
By:
Natalie Taylor, Editor, FaveSouthernRecipes.com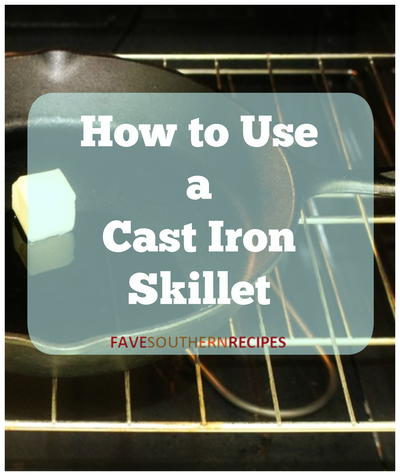 Every Southerner needs a cast iron skillet in their kitchen arsenal. The cast iron skillet is a special tool in that it requires special care to keep it functioning properly.

Whether you are a seasoned Southern chef or a novice cook, our guide for How to Use a Cast Iron Skillet will help you use and care for your skillet.

This guide includes an explanation of what a cast iron skillet is, directions for seasoning and cleaning a cast iron skillet, and Southern recipes for a cast iron skillet.

So whether you just bought a brand new cast iron skillet or you just want a refresher on maintaining a cast iron skillet, this guide will help you. As an added bonus, we have included some great Southern recipes to get you inspired to cook with cast iron.


For a free, printable infographic, click the link below!
Looking for a great recipe to make in your new cast iron skillet? Try our test kitchen-approved recipe for Skillet Texas Hash
What is a Cast Iron Skillet?
A cast iron skillet is a very durable type of cookware that is made from a single piece of metal, which allows the skillet to be used on both the stove and in the oven. This versatility means that the same pan can be used to fry or sear food before the pan is transferred to the oven to finish baking.
Seasoning Your Cast Iron Skillet
Before you use your new skillet, you must season it. This creates a non-stick coating. If a cast iron skillet is properly cared for, it can last a lifetime!
(Click on the photo to see a larger version)

Preheat the oven to 325 degrees F.

Wash the cast iron skillet with warm, soapy water. Rinse and dry the skillet, making sure that it is completely dry.

Next, use a cloth or paper towl to apply a layer of vegetable oil or shortening to the pan. Make sure to cover the entire skillet: the inside, the outside, and the handle.

Place the skillet upside down in the oven on the middle rack. You can place a sheet of foil on the bottom rack to catch any drips of oil from the pan.

Bake the cast iron skillet for 1 hour. Then, turn off the oven and let the pan cool completely in the oven.

Once the pan has cooled, you can use your newly-seasoned cast iron skillet!
Cleaning Your Cast Iron Skillet
(Click on the photo to see a larger version)

Immediately after cooking, rinse your pan with hot water. To remove any burnt food, scrub the pan with some salt and a cloth or non-metal brush.

You can occasionally clean your pan with a little dishsoap, but keep in mind that this can remove your non-stick coating.

Periodically, you will need to reseason your pan to maintain its non-stick coating.
Southern Recipes for a Cast Iron Skillet
Now that you've seasoned your skillet, it's time to get cookin'! Choose one of these meals and enjoy some authentic Southern cooking recipes.
General Tips
Cast iron skillets take on the flavors of the food that is cooked in them. So, if you use your skillet to fry fish, a dessert recipe may not taste great if you use the same skillet. It's best to use dedicated skillets for savory and sweet recipes.

To avoid getting smudges on all of your kitchen dish towels, dedicate one dish towel to dry your cast iron skillet.

For perfectly roasted vegetables, try using a cast iron skillet instead of your typical baking sheet.

Cast iron skillets are excellent for frying chicken, baking cornbread, and frying eggs.

Avoid cooking fillets of delicate fish, as they may fall apart when cooked in a cast iron skillet.
Subscribe to Our Free Newsletter
Free recipes, giveaways, exclusive partner offers, and more straight to your inbox!

Report Inappropriate Comment
Are you sure you would like to report this comment? It will be flagged for our moderators to take action.
Thank you for taking the time to improve the content on our site.