How to Store Your Baking Ingredients
By:
Toby Kuhnke, Editor, FaveSouthernRecipes.com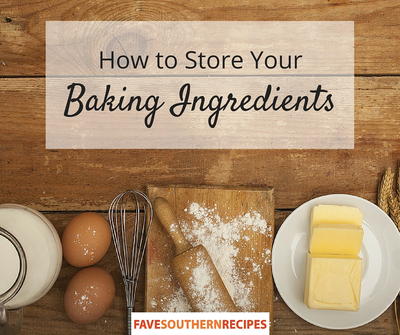 How to Store Your Baking Ingredients
The benefits of having fresh ingredients when cooking are numerous. These tips for How to Store Your Baking Ingredients will ensure that your cooking and baking supplies stay fresh. They can even extend the shelf lives of your ingredients, keeping your favorite Southern meals extra fresh and delicious.
 
Fresh ingredients that are stored out of the heat and light can turn your cakes and pies from average to stellar. If you're someone who just puts the flours and sugars in the pantry and forgets about them until it's time to cook, you might be surprised to learn just how much improper storage can affect the quality of the food you're making. Keeping your ingredients stored in an organized way will also make cooking a breeze!
Keeping Your Ingredients Fresh
Flour and Sugar and Eggs! Oh My!
Remove Your Ingredients from Their Packaging: Sometimes the packages that your ingredients come in aren't the best to store them in. Paper bags especially are known for not keeping ingredients at peak freshness. They can even let in small bugs! Keep your ingredients in airtight containers to keep them fresher longer.

Where to Keep Them: Heat and light can also have an effect on how long your ingredients last. Keep them in a cool, dark place, and they'll stay as good as the day you bought them.

Keeping It Cool: When it comes to storing flours, keeping them in the refrigerator can double its lifespan. Keeping it in the freezer is even better, especially if space is tight in the fridge.
Shelf Life Tips: Is It Still Good?
Sugar and Brown Sugar: Most sugars have no expiration date, but they're usually best within the first two years or so. And what good baker would let a bag of sugar last that long without being used? To prevent sugar from getting hard and clumpy just make sure it's not exposed to moisture.

Flour: Flour usually lasts about 6-12 months in a pantry. Storing it in the refrigerator or freezer can more than double the shelf life. Look for any changes in color or smell to tell if your flour has gone bad.

Honey: Honey has no expiration date. Over time, honey will form crystals inside the bottle and become harder to pour, but it's still safe to eat, and there are ways to return it to its original state.

Vanilla Extract: Pure vanilla extract has no expiration date, but the imitation version will only last for 2-4 years. The same is true for all alcohol-based extracts.

Rice: Almost all types of rice will last 4-5 years uncooked, but brown rice and wild rice are a little different. Because of various factors like oil content, these types will only last about 6-8 months.

Baking Soda and Baking Powder: These two baking essentials usually last 6-12 months in the fridge. If it's been a while since you bought it, there are ways to test them to see if they're still good. Add baking soda to a little bit of vinegar, and add baking powder to some water. If they start to bubble and fizz, then they're still good. If not, don't bake with them or your cakes and cookies will end up flat and dense.
Subscribe to Our Free Newsletter
Free recipes, giveaways, exclusive partner offers, and more straight to your inbox!

Report Inappropriate Comment
Are you sure you would like to report this comment? It will be flagged for our moderators to take action.
Thank you for taking the time to improve the content on our site.