How to Store Fresh Herbs
By:
Toby Kuhnke, Editor, FaveSouthernRecipes.com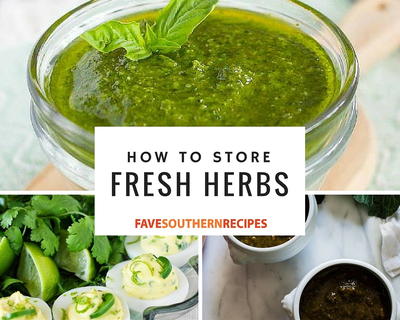 How to Store Fresh Herbs
Keeping your herbs fresh is the best way to take a recipe from mediocre to amazing. These tips and tricks for How to Store Fresh Herbs will help you make your Southern recipes burst with flavor. If you've ever watched some once-vibrant herbs go bad and wither away into a gross, brown mess, then you know how wasteful -- and how unpleasant -- wasting herbs can be. But storing herbs isn't as simple as just following one method.

Whether it's basil leaves on a pizza or a sprig of mint in a glass of sweet tea, herb freshness is important, but it seems like herbs never last as long as we need them to! You might pick some fresh basil to make a basil pesto and discover that you've got too much. And at the end of the summer, when it's time to start harvesting your herbs and spices, you often have more than you know what to do with. If you follow these tips and tricks, you'll find your herbs can last well past their prime, keeping your food fresh and flavorful forever.
Tips for Keeping Your Herbs Fresh
Quick Note
Not all herbs are the same. Hardy herbs like sage, rosemary, and thyme should be stored in different ways than tender herbs like basil, parsley, and cilantro. The best flavors come from fresh herbs, but no matter how you store your herbs, they won't taste exactly the same over time.
Freezing Hardy Herbs
Leave them on the stems and freeze them. Once they're frozen, roll them in an air tight freezer bag and store them in your freezer for up to a year!

For tender herbs, like basil, parsley, and cilantro, freezing in ice cube trays is much easier.

Start by finely chopping the herbs. Add a little water or olive oil, and pour into ice cube trays.

Freezing will preserve the flavors in your herbs much better than other methods. Toss one of these frozen herb cubes into a sauce or a soup like this Good Friday Green Gumbo, and it will taste like you just picked it from the garden.
Drying Herbs
Many recipes specifically call for dried herbs because the process of drying alters the flavors in your herbs slightly.

If you want to dry your herbs in the oven, just spread the leaves on a baking sheet. Bake at a low temperature for an hour, turning half way through.

Another option is to dry your herbs in the microwave. To do this, place them between two paper towels and microwave in 30-second intervals until they're dry. Just make sure they don't burn!

The third and most time consuming option is drying your herbs on a rack. Just hang your herbs upside down in a spot that's warm, dry, and dark. This usually takes a few days, but it can take longer depending on humidity.
How do you use your herbs?
Subscribe to Our Free Newsletter
Free recipes, giveaways, exclusive partner offers, and more straight to your inbox!

Report Inappropriate Comment
Are you sure you would like to report this comment? It will be flagged for our moderators to take action.
Thank you for taking the time to improve the content on our site.