How to Make the Best Deviled Eggs Ever
By:
Megan Horst-Hatch, Editor, FaveSouthernRecipes.com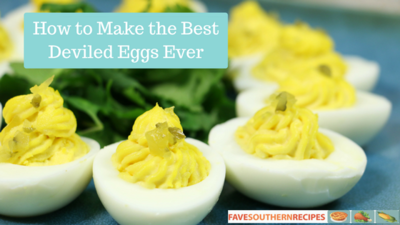 How to Make the Best Deviled Eggs Ever
When you think of food for backyard barbecues, you likely envision a platter of delicious homemade deviled eggs along with barbecued food and plenty of desserts. After all, what's a list of Southern recipes without the classic deviled egg? Whether you've made deviled eggs countless times before or will make your first attempt for an upcoming party, you'll want to wow family and friends with your cooking skills by trying a new twist on the traditional favorite. From information on how to cook your eggs to variations on the tasty classic recipe with mayonnaise and mustard, these tips on How to Make the Best Deviled Eggs will get you started.
Do you want to make deviled eggs, but aren't sure where to start? Then here's something for you. From the classic deviled egg recipe to amazing variations on the classic party fare, you'll get a good start for making your own deviled eggs when you check out these tips on How to Make Deviled Eggs: 7 Easy Recipes
Tips on Making the Best Deviled Eggs Ever
Prepare Your Deviled Eggs for the Party
With a little bit of preparation and by keeping food safety in mind, you can make the best deviled eggs.
Don't Overcook The Eggs
It's tempting to want to cook your eggs for an almost endless amount of time, but M. Elizabeth Sheldon from Food & Wine cautions against doing exactly that. Knowing how to cook hard boiled eggs is a crucial piece of information, as Sheldon recommends that you "never boil your eggs longer than 10 to 12 minutes," and that you put the eggs under cold water when they come out of the pan.

Plan for Mistakes
Making a mistake when preparing deviled eggs is almost a certainty. For example, it's possible you may not fill the eggs correctly, or that an egg white might break. Prepare a few extra hardboiled eggs just in case of a mishap and to guarantee that you have a full tray of deviled eggs.

Prep Your Deviled Eggs at the Party
No matter how carefully you prepare and pack your deviled eggs, they just might spill or roll over while in transport. If cleaning up a mess isn't exactly something you want to do when you arrive at the family barbecue, then you can fill the deviled eggs when you arrive. Mix your filling in advance and place it in a plastic bag or pouch, then fill the deviled eggs and add garnish once you're at the party.

Keep Food Safety in Mind
A foodborne illness is one thing you don't want to bring to your next picnic. If you're bringing deviled eggs to your next event, then you'll need to do a bit of preparation to keep those deviled eggs stored and served safely. USDA's tips for safe egg handling include keeping your tray of deviled eggs on ice if they'll be out for more than two hours, and to transport your eggs to the party site in an "insulated cooler with enough ice or frozen gel packs to keep them cold."
Try New Variations on the Classic Deviled Egg Recipe
You can't go wrong with the classic deviled eggs recipe that includes mustard, mayo, salt, and pepper. However, these new variations will help you create your own twist on the classic party fare.
Explore Deviled Egg Variations
There are so many variations to the classic deviled egg filling, so let your imagination run wild when trying something new. Consider using your favorite hot sauce, pesto, or other flavoring in the deviled egg filling. Think of other guests' tastes and preferences, too, as your idea of a mild hot sauce may be Aunt Sue's idea of a three-alarm fire.

Add Garnish to Your Deviled Eggs
Don't forget the garnish, either! Think beyond parsley and use small bites of bacon, shredded or crumbled cheese, fresh herbs, chopped pickles, and other favorite add-ons. Just remember to keep everything bite-sized and easy to eat!

Taste as You Go
You've decided to try a totally new-to-you deviled egg filling, but will it be any good? Using a clean spoon, taste a bit of the filling after initially mixing your ingredients, then adjust the mixture as needed. This is also the perfect opportunity to see if your deviled egg filling is too runny or too thick.
Even More Great Southern Deviled Eggs Recipes
Are you ready to make more deviled eggs? Keep this list of recipes handy the next time you need to make a deviled egg tray for a cookout or tailgate party.
Do you need a few more ideas for appetizers for your next holiday party? In addition to deviled eggs, there are plenty of dips, cheese straws, and other tasty appetizers to make for your next get-together. Discover more appetizers when you take a look at 17 Easy Holiday Appetizer Ideas
What is your favorite filling for deviled eggs?
Subscribe to Our Free Newsletter
Free recipes, giveaways, exclusive partner offers, and more straight to your inbox!

Report Inappropriate Comment
Are you sure you would like to report this comment? It will be flagged for our moderators to take action.
Thank you for taking the time to improve the content on our site.