How to Make a Cake from Scratch
By:
Kaitlin Weiler, Editor, FaveSouthernRecipes.com
For many people, baking a cake from scratch is daunting task. No one can deny that eating a piece of homemade cake is sweet and satisfying, but first you must learn how to make a cake from scratch. Just the thought of measuring out all of the ingredients and mixing them together may have many people running to the grocery store for a reliable box of cake mix instead.

Making a cake from scratch may sound like a daunting task, but it doesn't have to be. Anyone who is able to make a boxed cake mix is also able to make any easy cake recipe from scratch, especially when armed with an arsenal of tips and tricks for how to bake a cake from scratch. Thankfully, the experienced bakers of FaveSouthernRecipes.com are here to help all of the cake-baking novices out there by sharing their tips, tricks, and knowledge for making a cake from scratch.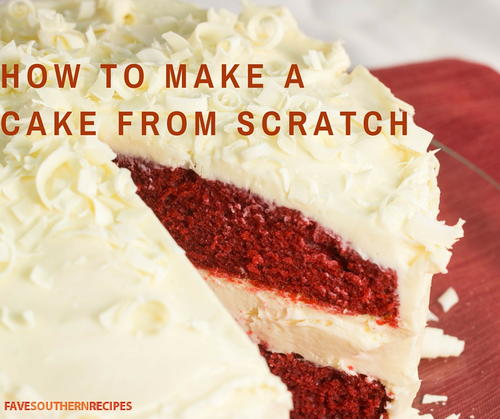 How to Make a Cake from Scratch
Table of Contents
Read through your recipe carefully before beginning. Reading through the instructions will ensure that you aren't missing any ingredients, and you won't have any surprises when you're in the middle of the cake recipe.
Make sure you follow the directions. Baking is more of an exact science than cooking, so it's important to be precise with measurements and instructions.
Take your time. Measure out all of your ingredients ahead of time and gather all of your equipment before beginning. This will make all aspects of the cake-baking process smoother and easier.
Always let your ingredients come to room temperature before beginning.
If you are short on time and cannot let your butter and eggs come to room temperature naturally, put the butter in the microwave on low for 5 second intervals until it is softened. To raise the temperature of the eggs, place the eggs in a bowl of warm water for 10 to 15 minutes.
When making a cake from scratch, carefully measure all of ingredients and level off the flour with a knife. If the recipe you are using notes the weight of the ingredients, use a food scale for even more accuracy. Weighing the ingredients will ensure that you are using the precise amount of ingredients called for.
---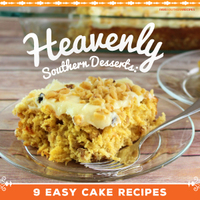 For all of our best cake recipes, download a free, printable copy of Heavenly Southern Desserts: 9 Easy Cake Recipes.
---
Thoroughly combine the dry ingredients, such as flour, salt, and leavening agents, before adding them to the wet ingredients. This is important because they will not have a change to be evenly mixed if added directly to the wet ingredients.
If your recipe calls for milk, alternate adding the dry ingredients and the milk to the butter mixture. This will help prevent overmixing and help to properly moisten all of the dry ingredients.
Never overmix your cake batter! It will lead to a really dense cake and cause the cake to crack when baking. Mix the cake batter just until all of the ingredients are moistened and combined.
For an extremely moist cake, add two heaping tablespoons of mayonnaise, sour cream, or yogurt to your cake batter.
Be sure that your oven is preheated and that you have a separate oven thermometer to verify the oven's temperature. Also, be sure your oven is level. You may wish to do a trial run to test both.
Be mindful of the shade of the pan you're using. Darker pans radiate more heat and can brown your cake faster than a lighter metal pan.
Set a timer for half the amount of baking time. At the halfway mark, check the cake and rotate it so that it bakes evenly. Don't forget to reset the timer for the rest of baking time!
Test the cake with a toothpick or the tip of a knife at the minimum baking time to test for doneness.
When making a layer cake, be patient and let the cake cool enough before you take it out of the pan. If you try take it out right away, it may crack, which would be very sad.
Allow the cake to cool completely before frosting it. If you get overeager and frost the cake before it is done cooling, the frosting may melt and make a mess.
---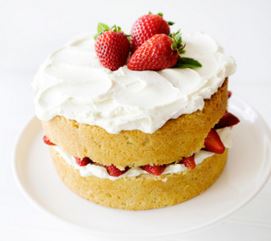 Find easy cake recipes in our reader-favorite collection of 25 Southern Cake Recipes.
---
When coloring your frosting, a little food coloring goes a long way. Don't learn that the hard way.
Add a bit of flavoring to your frosting by using your favorite flavor of extract. A little extract goes a long way, so add a small amount of extract at a time.
If you are a frosting fiend, make a double batch of frosting. That way, you will have enough to frost your cake, even if you can't stop yourself from snacking on it.
Take control of the frosting's consistency! You can easily make the frosting thinner and more spreadable by adding additional milk. If your frosting is too thin, add more powdered sugar.
If you have leftover frosting and it starts to dry out or harden up, just add a few drops of water and mix it in to bring it back to life.
When cutting one cake into multiple layers, use toothpicks to mark the halfway point in the cake. This will help guide your cuts so that it is even and straight. You could also score the outside of the cake before your make your cut. It is best to use a long, sharp serrated knife for cutting a cake into multiple layers.
For those who don't like frosting cakes, make a "naked" cake! Frost between the layers and frost the top of the cake, but leave the sides bare for less work and a rustic look.
If you want to frost the entire cake, add a thin crumb coating to the cake. Refrigerate the cake to allow the crumb coating to harden slightly before frosting the remainder of the cake. The crumb coating with create a barrier between the cake and the frosting so that the outer layers of frosting stay free of crumbs and can easily be applied to the cake.
What is your best tip for how to make a cake from scratch? Tell us in the comments below!
Subscribe to Our Free Newsletter
Free recipes, giveaways, exclusive partner offers, and more straight to your inbox!

Report Inappropriate Comment
Are you sure you would like to report this comment? It will be flagged for our moderators to take action.
Thank you for taking the time to improve the content on our site.