How To Make a Substitute for Buttermilk
By:
Natalie Taylor, Editor, FaveSouthernRecipes.com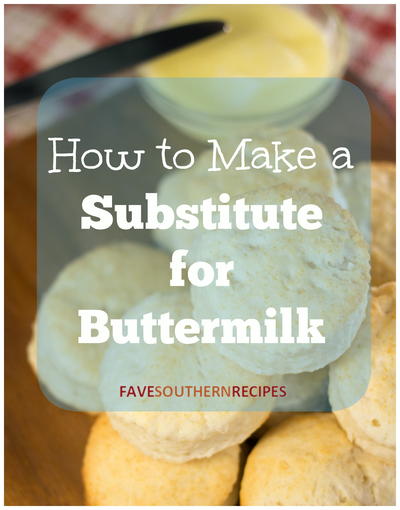 Buttermilk is a staple in many Southern recipes because it adds a special touch of Southern flair to recipes. If you have ever wondered what buttermilk is and what it is used for, our helpful guide for How to Make a Substitute for Buttermilk will tell you everything you wanted to know about buttermilk!

This special dairy product adds a tanginess to recipes and is a wonderful addition to salad dressings and dips. Buttermilk is also used in Southern cooking for its ability to tenderize meats and vegetables, especially in fried foods. In addition to adding rich flavor to recipes and tenderizing meat, buttermilk also creates a fluffy texture in baked goods because of the way it reacts with the other ingredients.

If you ever find yourself in the kitchen prepared to cook up a Southern recipe, but you have no buttermilk, never fear! There are several substitutions for buttermilk that are made with common ingredients. These shortcuts are the perfect solution if you need buttermilk right away. If you're not pressed for time and you feel like making a more authentic version of buttermilk, there is a way to make buttermilk at home! So, follow our easy guide on buttermilk and learn what all the fuss is about.

Plus, you can get a free infographic by clicking the link below!
What is Buttermilk?
In its most traditional form, buttermilk is the liquid that is leftover when cream is churned into butter.

However, the buttermilk that can be bought in the store is slightly different. Nowadays, store-bought buttermilk is made with cultures which help to speed up the process. These cultures are added during the fermentation process to develop the acid that is naturally found in traditional buttermilk.
Substitutes for Buttermilk
If you find yourself in a pinch, use one of these recipes for making a buttermilk substitute.
(Click on the photo to see a larger version)

Or download the free infographic here!

Cream of Tartar - combine 1 cup of whole milk with 1 ¾ tablespoons of cream of tartar and stir until the ingredients are combined. Let the mixture sit for 5 minutes.

Sour Cream - combine ¾ cup sour cream with ¼ cup whole milk (water could be used for a lighter version). Depending on the consistency of your sour cream, you may need to add a bit more sour cream or a bit more liquid to create the correct consistency.

Yogurt - Simply combine ¾ cup of plain yogurt with ¼ cup whole milk.

Lemon juice or White Vinegar - place 1 tablespoon of lemon juice or white vinegar in a measuring cup and add enough whole milk to create 1 full cup of liquid. Let the mixture sit for 5 minutes.
How to Make Buttermilk at Home
This process takes more time, but will ultimately create a more authentic version of buttermilk.
Begin by combining 1 cup of whole milk with 1 tablespoon of store-bought buttermilk. You can also use a store-bought buttermilk starter instead of buttermilk. In this case, the ratio of the starter to the whole milk may be different, so follow the instructions on the package.

Once the whole milk has been combined with the buttermilk or the starter, cover the dish with a towl and let the mixture sit for 10-18 hours. During this time, the milk will curdle. It is safe to leave the mixture unrefrigerated because the healthy buttermilk bacteria will protect against any bad bacteria.

Once 10 hours have passed, check the buttermilk mixture. It should look a bit like yogurt. To give the buttermilk a richer flavor, allow the mixture to set for longer (8 additional hours at the most).

The buttermilk you've made can last for up to two weeks in the refrigerator. Congratulations, you've made your own buttermilk!
Subscribe to Our Free Newsletter
Free recipes, giveaways, exclusive partner offers, and more straight to your inbox!

Report Inappropriate Comment
Are you sure you would like to report this comment? It will be flagged for our moderators to take action.
Thank you for taking the time to improve the content on our site.