How To Host A Potluck Dinner
By:
Megan Horst-Hatch, Editor, FaveSouthernRecipes.com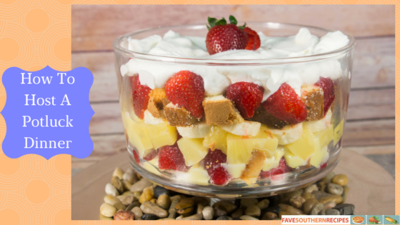 How To Host A Potluck Dinner
A plated dinner party sounds elegant, but perhaps you'd like to host a get-together that's more casual. That's where a well-planned potluck comes in! This type of party has guests sharing their favorite appetizer, side dish, or dessert with everyone in the group. Potlucks are also a great way for members of a group to show off their cooking skills or maybe even try a new Southern recipe for a delicious potato casserole.

Although potlucks can be laid back, there is still some planning and preparation to do. The host of a potluck needs to think about venue size, how to avoid winding up with multiple variations of the same dish, and even how to clean up after the event. If you're planning to host a potluck dinner, then you'll want to keep these tips on How To Host A Potluck Dinner in mind.
Do you need some ideas on what to bring to your next potluck? If you're looking for a new recipe that's both tasty and inexpensive to make, then you'll want to take a look at the recipes found in the 13 Budget-Friendly Church Potluck Recipes
Your Role As A Potluck Dinner Host
Think you can just fling open the door to your home and that's all you need to do as a potluck dinner host? Think again. Take a look at this to-do list before you host your next potluck.
Secure The Potluck Location
There's more to hosting a potluck than simply opening your front door. For starters, you'll need to secure a location that's large enough for your guest list, then figure out how to prepare the venue before the potluck starts. You need to use a serving table or two that's large enough to display everyone's contributions, then set it up so that everyone can select the food they'd like without creating a traffic jam.

Select A Potluck Dinner Theme
If you'd like some consistency, then a potluck dinner theme is for you. You can ask guests to bring food from a particular cuisine, like their favorite five-ingredient dish or beloved Southern recipe. And how much should everyone bring, anyway? In general, a guest should bring a dish that can serve four to six adults. Feel free to adjust that number to reflect your group's preferences.

Use a Potluck Sign-up Sheet That Works For Your Group
Although the idea of a party where everyone brings a plate of brownies might sound amazing, in reality, most guests want some variety in potluck dishes. With a potluck sign-up sheet, you can easily avoid multiples of one dish. The sign-up sheet also lets guests know upfront regarding which allergens cannot be included in potluck dishes. Sign-up sheets can be high-tech with online forms through Google Docs or SignUpGenius, or low-tech with paper and pen.

Think Beyond Dinner
Although you can't go wrong with hosting a potluck dinner, perhaps a brunch or lunch might work better with your group. Fruit salads, fresh-cut vegetables, and coffee cakes like this Blackberry Crumb Coffee Cake are just some of the options that guests can bring to a potluck that's held earlier in the day.

Prepare Your Party Venue
When guests sign up, you can ask if they need special equipment or tools. Someone who's bringing a slow cooker filled with barbecue pork will need an electrical outlet, while a guest who plans to bring an ice cream cake needs a freezer.

Have A Backup Plan
Despite your best planning efforts, a guest might forget the salad they promised they'd bring. That's where you will need to step in as potluck host. As noted in the Chicago Tribune, a potluck host "is always going to have the backup of takeout ready" in case a guest forgets to bring a dish.

Remember The Small Stuff
Plates, napkins, cups, utensils, and ice and beverages are all essential to a great potluck. Guests who don't cook or are short on time can bring these essential items. Don't forget the salt, pepper, and ketchup, too!

Cleanup Can Be A Breeze
Spills and dirty dishes are some of the hazards of hosting a potluck. Ask guests to pitch in and help with cleanup before the party is over, especially if your potluck is taking place in an offsite venue, such as in the meeting room of your house of worship.
Bring These Southern Recipes To Your Next Potluck Dinner
Whether you're hosting your club for the annual potluck dinner or are attending a more laid-back event, you'll want to show off your cooking skills. These Southern are sure to be a hit at your next potluck dinner!
A slice of pie is the perfect way to end a wonderful potluck with family and friends. Serve your loved ones a delicious dessert when you bring a pie to your next potluck. You can find an assortment of great recipes right here in the free eCookbook The Best Easy Pie Recipes: 14 Southern Recipes for Pie
What is your favorite dish to share at a potluck dinner?
Subscribe to Our Free Newsletter
Free recipes, giveaways, exclusive partner offers, and more straight to your inbox!

Report Inappropriate Comment
Are you sure you would like to report this comment? It will be flagged for our moderators to take action.
Thank you for taking the time to improve the content on our site.