How to Make the Perfect Cookies
By:
Toby Kuhnke, Editor, FaveSouthernRecipes.com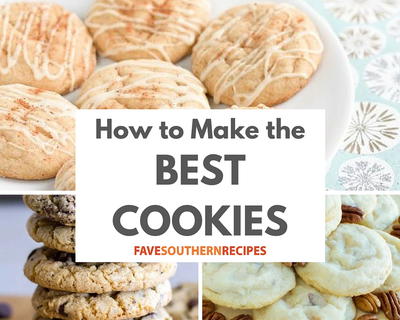 How to Make the Perfect Cookies
Cookies are such a great dessert, and perfecting your own cookie recipe can be a daunting task. There are so many factors to consider! These tips for How to Make the Perfect Cookies will take some of the stress out of baking cookies. Everything from the fat that is used to the type of flour and the method of mixing can affect the way the cookies perform in the oven. Cookies are great for every occasion from holiday cookies to Spring cookies for Easter! Whether your like your cookies warm and crispy or puffy and soft, these tips can help you craft and adjust your recipe so you end up with the perfect batch of cookies every time.
How to Achieve Cookie Perfection
General Cookie Tips
There are just some things that all good cookies have in common. Follow these steps to perfecting your cookies before they go into the oven.
Parchment paper is your best friend when it comes to baking cookies -- or baking anything for that matter. It's so great because it helps cookies bake more evenly and will prevent them from spreading out too much. It also makes clean up so much easier!

Once your pan is prepared with parchment paper, the next thing to keep in mind is how you mix in your ingredients. Add your eggs in one at a time, and add your dry ingredients in small portions. Doing this will help your ingredients be more evenly distributed.

When your dough is ready, use an ice cream scooper to get your cookies to be the same size. Having your cookies be all the same size helps them bake in the same way.
Crispy Cookies versus Puffy Cookies
Some like their cookies crispy, while others like them puffy. No matter how you like it, making the right choice in these six steps can determine how the cookies come out! Measure carefully.
The fat you use -- butter, margarine, or shortening -- and how much you use can greatly affect your cookies. To make your cookies crispy, use more fat; for puffy cookies, use less. Butter usually makes cookies flatter, and margarine and shortening help cookies keep their shape.

After the fats come the dry ingredients. For flour, make sure you're using the right kind of flour in your cookies. Deviating from the recipe in this case can cause your cookies to not bake properly.

Baking soda and baking powder also have an effect on the puffiness or crispiness of your cookies. Because baking powder has some acidity to it, using baking powder will generally result in puffier cookies.

The binding agent comes next. If you choose eggs to bind your ingredients, you will get a puffier cookie that is more like a cake on the inside. Other liquids used in cookies like oils and melted fats will make your cookies flatter.

The last part of assembling your dough is mixing the ingredients. The important thing here is to not over mix. If you dough as too much air in it, they will collapse during baking, giving you flat cookies. 

Lastly, remember that the recipe is there for a reason. Adjusting and tinkering with recipes is fun, but usually the instructions are there to prevent you from making bad cookies.
Some Great Southern Cookie Recipes
Try out the tips above on these great Southern cookie recipes!
Subscribe to Our Free Newsletter
Free recipes, giveaways, exclusive partner offers, and more straight to your inbox!

Report Inappropriate Comment
Are you sure you would like to report this comment? It will be flagged for our moderators to take action.
Thank you for taking the time to improve the content on our site.