Great Ways to Organize Your Spices
By:
Toby Kuhnke, Editor, FaveSouthernRecipes.com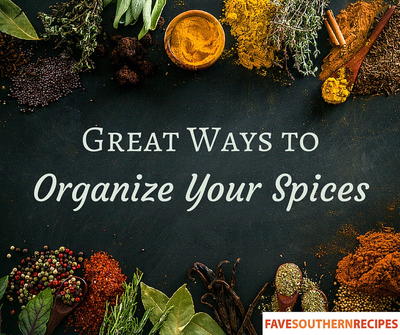 Great Ways to Organize Your Spices
Spices are the backbone of any and all recipes -- especially in spicy Southern and Cajun food. But over time, it can be easy for a spice cabinet or drawer to fall into disarray. If you have ever found yourself scrambling to find that jar of rosemary, basil, or cayenne while your food is burning on the stove, you should try these Great Ways to Organize Your Spices and get your spice rack back on track. Having an organized spice cabinet can make cooking a breeze and clean up even easier.

Whether you're making a seasoning mix or just trying to spice up your dishes, these tips for organizing, storing, jarring, and labeling your spices will make your life so much easier in the kitchen. There is more to consider than you might imagine, and you certainly don't want to fork out a load of money on a spice rack or some storage shelves that you aren't happy with. So do your research, and read these spicy tips and tricks!
How to Organize Your Spices
Spice Storage Dos and Don'ts
There are so many things to take into consideration when organizing your spices. This list of spice storage dos and don'ts will make organizing your spices so much easier!
DO store your spices in places where they won't be knocked over easily. A magnetic spice rack is a great way to get them out of the way while still keeping them in plain sight.

DON'T stack spices on top of each other. Giving them their own space on the shelf will make them much easier to find and access when you need them.
 

DO keep your spices close to the stove. When you're preparing and adjusting your recipes, it's nice to have those spices nearby. But be careful to not store them where they will get hot. Heat shortens the life of your spices and can make them lose their flavor over time.

DON'T keep your spices on your counter. No matter how much counter space you have, there never seems to be enough. Whichever storage method you choose, avoid the ones that place them in containers on the counter. Instead, opt for ones that hang on the wall or inside cabinet doors.
Labeling, Storing, and Jarring Tips
A well-organized spice cabinet can make or break a kitchen and a cook. When labeling, storing, and jarring your spices, keep these seven tips in mind.
Certain things like heat and light can degrade your spices and shorten their shelf lives. Keeping them in darker, colder spaces -- like the inside of a cabinet door -- will keep them fresher longer.

When labeling your spices, consider how your spices are stored. If they're lying down in a drawer, label them on the front or side. If they have enough room to stand in the drawer, label them on the top.

Keeping your spices in jars is a fantastic way to keep them organized. You don't have to remember what the jar looks like, just look at the label.
 

Storing spices in glass or clear plastic containers is a great way to find the spice you need quickly.
 

If you're someone who uses all your spices equally, consider putting them in alphabetical order.

Often, though, there are a few spices that you find yourself using over and over. If this is the case for you, organize them by how often you use them.

When choosing jars for your spices, pick ones that prevent excess air from getting in contact with the spices. This can make them turn stale and flavorless over time. So no spice jar lids with holes in them to shake the spices out, no matter how convenient they might be.
What is your best trick for storage and organization?
Subscribe to Our Free Newsletter
Free recipes, giveaways, exclusive partner offers, and more straight to your inbox!

Report Inappropriate Comment
Are you sure you would like to report this comment? It will be flagged for our moderators to take action.
Thank you for taking the time to improve the content on our site.