10 Cooking Tips Every Southern Cook Should Know
By:
Natalie Taylor, Editor, FaveSouthernRecipes.com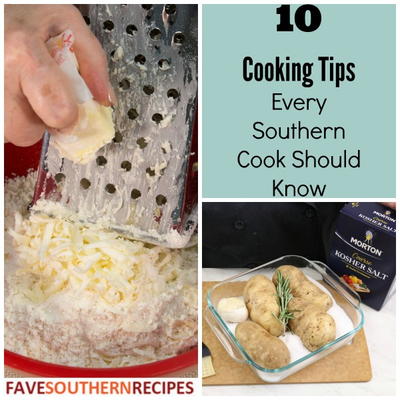 One of the best things about cooking is that there's always something new to try. Whether it's trying out a new combination of ingredients or practicing a technique, there is always a new cooking secret to be uncovered. We have assembled this collection of 10 Cooking Tips Every Southern Cook Should Know to help make every cooking experience as enjoyable as possible. Even if you know your way around the kitchen, you might just find a new cooking tip that will make your life that much easier. Southern cooking is about making meals from the heart to share with friends and family. These tips for cooking will bring you more ease in the kitchen so you can enjoy the best of what Southern cooking has to offer!
10 Cooking Tips Every Southern Cook Should Know
Don't be afraid of heat - Searing meats, especially steak, is a great way to add additional flavor. However, this cooking method will create smoke, but don't be alarmed!

The easiest way to peel potatoes - After boiling whole potatoes, transfer them to an ice bath. Then, the peel will easily twist off.

The easiest way to make whipped cream - Whipped cream is a great addition to any Southern dessert. There is the traditional way of making whipped cream with a mixer, but it can also be made in a jar! Simply add heavy whipping cream to a jar, screw on the lid, and shake it for several minutes. In no time at all and you will have delicious whipped cream with very little cleanup. You can also add in sugar and vanilla for added sweetness.

Use a kitchen towel to dry salad greens - After washing your salad greens, wrap them in a clean kitchen towel. Then, hold the towel by the ends and shake until the greens are dry. This is a great alternative to a salad spinner as they take up a lot of cabinet space. To store the clean greens, place them in a resealable bag or container with a paper towel.

BBQ Ranch Chicken Salad

Don't be afraid to cook with salt - While it's never good to use any seasoning in excess, salt is nonetheless essential for every Southern cook. If a recipe has a lot of fat in it, the more salt will be needed to help the flavors stand out. It's also important to taste and season your food as you're cooking.

Save chicken and bacon fat - After you've baked a chicken or fried some bacon, save the grease and keep it in the freezer for later use. Use these savory fats to cook greens in or make a soup base. The rich flavor will take your meal to the next level.

The easiest way to slice meat - Briefly freezing meat will make it easier to slice it. That way, you will get evenly sized pieces of meat for stews and other recipes. 

The easiest way to grate cheese - To get cleanly shredded cheese, spray your cheese grater with nonstick spray. This will prevent the cheese from sticking to the grater and creating a mess.

How to get more juice out of lemons and limes - Putting lemons and limes in the microwave for 15 to 20 seconds will help release more of the juice.

The Easiest Lemon Meringue Pie
Subscribe to Our Free Newsletter
Free recipes, giveaways, exclusive partner offers, and more straight to your inbox!

Report Inappropriate Comment
Are you sure you would like to report this comment? It will be flagged for our moderators to take action.
Thank you for taking the time to improve the content on our site.