Cooking Chicken: How to Avoid Common Cooking Mistakes
Say goodbye to bland, dry chicken with the help of these easy cooking tips.
By:
Natalie Taylor, Editor, FaveSouthernRecipes.com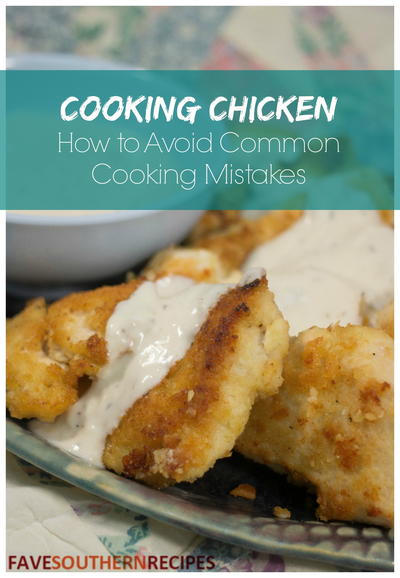 There's nothing more satisfying than making a perfectly cooked chicken breast, is there? Whether you're an experienced chef or a novice cook, this guide will give you tips for making delicious chicken. Cooking Chicken: How to Avoid Common Cooking Mistakes is a great resource that will help make your chicken recipes even more delicious. Since chicken is one of the most popular meats, it is even more necessary to know the right way to cook chicken. Below, you will also find some easy recipes for chicken so you can test out these tips. So peruse the list and learn some new tips about cooking chicken!
Tips for Cooking Chicken
Don't use boneless, skinless chicken breasts – The skin and bones add lots of flavor to chicken breasts as they cook. Using bone-in, skin-on chicken will also help the chicken retain more moisture.

Use a marinade, brine, or rub – Not only will a marinade or brine add flavor, it will also help the chicken stay moist.

Pound the chicken to ensure even cooking – Trying to cook an uneven chicken breast will result in spots that are overcooked. To easily avoid that, pounding the chicken before cooking it will ensure that it is evenly cooked.

Use the freshest chicken you can – If possible, it's best to cook with chicken that has never been frozen. Fresh chicken breasts are more likely to stay moist when cooked than frozen chicken. That's because thawing chicken makes it lose a lot of its moisture.

Cook with good-quality chicken because it will likely be more flavorful – Chicken that is higher quality will have a better texture and flavor, so it will be much easier to hold in the moisture.

Make room in the pan – If you crowd the pan, it will lower the overall temperature of the pan. Crowding the pan will also steam the chicken rather than sear it.

Use a meat thermometer – It can be difficult to tell when chicken is actually done cooking, so take the guesswork out of it and use a meat thermometer. Once the thickest part of the chicken has reached 165 degrees F, it is safe to stop cooking it!
How to Fix Dry Chicken
If the chicken you've cooked does turn out dry, there are still ways to use it.
Subscribe to Our Free Newsletter
Free recipes, giveaways, exclusive partner offers, and more straight to your inbox!

Report Inappropriate Comment
Are you sure you would like to report this comment? It will be flagged for our moderators to take action.
Thank you for taking the time to improve the content on our site.