10 Cake Mix Hacks: How to Make a Cake Mix Taste Homemade
Learning how to make a store bought cake mix better has never been easier!
By:
Natalie Taylor, Editor, FaveSouthernRecipes.com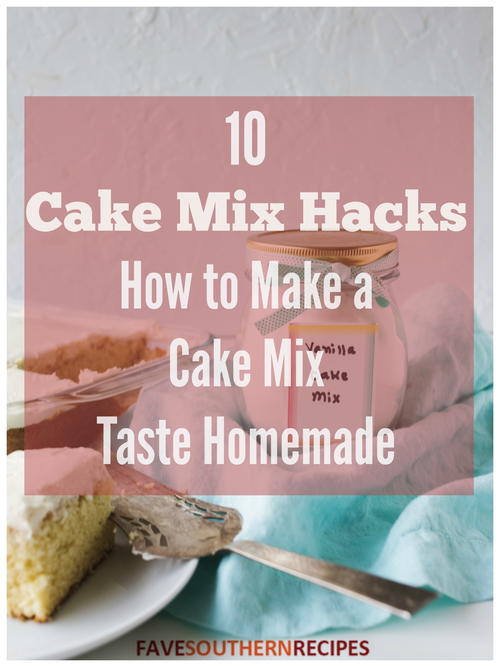 If you're pressed for time, but still want to enjoy a cake that tastes homemade, never fear!

If you've made a cake from a cake mix and it wasn't as good as you had hoped it would be, try a tip from our helpful guide, 10 Cake Mix Hacks: How to Make a Cake Mix Taste Homemade.

We hope our collection of 10 Cake Mix Hacks will inspire you to get creative in the kitchen. Making a cake mix taste better can be as simple as adding an extra egg or as unusual as stirring in brewed coffee!

Armed with a box of cake mix and creativity, no one would ever guess that your scrumptious cake isn't the result of your Grandmother's heirloom recipe. It can be your little secret.
How to Make a Cake Mix Taste Homemade
1. Use extra eggs - One of the easiest ways to make a cake mix taste homemade is to add an extra egg to the batter. For a thicker, moister cake, simply add an extra egg. No one would ever believe that your glorious dessert came from a boxed mix!

2. Use milk or buttermilk instead of water - Upgrade your cake by simply replacing the water the recipe calls for with milk. Whole milk will make your cake taste wonderfully rich. If you want to put a truly Southern spin on your box of cake mix, try adding buttermilk. It is important to note that you may need to add in a bit more liquid to the batter, since buttermilk has such a thick texture.

Don't have buttermilk on hand? No worries - you can make your own! Check out our how-to guide and free infographic, How To Make a Substitute for Buttermilk.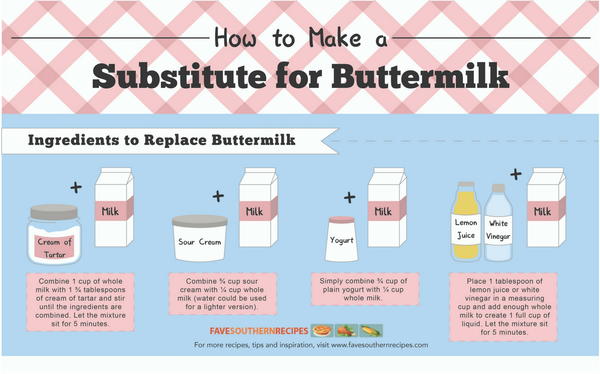 3. Replace vegetable oil with melted butter - The trick to most Southern cake recipes is butter. You may have heard that there's no such thing as too much butter and that's true here as well. Substituting melted butter in place of vegetable oil creates that signature homemade cake taste. If you're feeling particularly indulgent, feel free to add in a little extra melted butter.

4. Add a tablespoon of mayo - It might sound unusual, but adding a tablespoon or two to a boxed cake mix can create a lovely homemade texture. No one will ever guess your secret!

5. Top the cake with homemade frosting - There's nothing wrong with taking a shortcut sometimes. The one trick that makes any cake taste homemade is dressing it up with homemade frosting. Southern recipes for homemade frosting and buttercream frosting are at your fingertips.

For a delicious recipe for homemade frosting, try Old-Fashioned Vanilla Buttercream Frosting.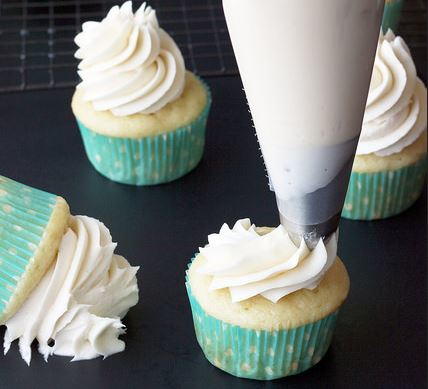 6. Add in a box of pudding mix - If you use a box of pudding mix, add enough extra liquid to account for the additional dry ingredients. Using pudding mix creates a richer, denser cake.

7. Experiment with add-ins - You can be as creative as you would like to be while experimenting with add-ins. Crushed cookies, nuts, jam, bananas, chocolate chips, sprinkles, and spices are all great options.

Sock It To Me Cake is a classic Southern dessert that is traditionally made with cake mix as well as add-ins such as pecans, cinnamon, and brown sugar. Try this recipe for Classic Sock It To Me Cake and see what all the fuss is about!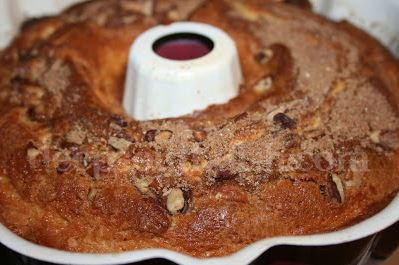 "I think that using cake mix is a great way to "get your feet" wet with baking. Just because it starts with a cake mix doesn't mean you're limited to what's on the box. Ingredients such as pudding mixes, mashed fruit, sour cream or yogurt, and extracts can help customize your cakes."

- Julianne Bayer, Beyond Frosting
8. Try replacing the liquid with brewed coffee - For a cake that is truly amazing, try replacing the water with brewed coffee. This addition is especially delicious when added to a chocolate cake mix. The coffee creates an even richer chocolaty flavor.

9. Replace the water with soda - Adding soda, especially dark soda, creates a delightfully subtle boost in flavor. Dark colas work well for chocolate cakes and citrus sodas are great for lighter cake mixes. Besides, it is easy to keep soda on hand, so you can make a wonderful cake whenever you want.

Try out this hack with this recipe for Shortcut Coca Cola Cake.
10. Add lemon juice and zest - Lemon desserts are so popular because that tart, sweet lemon flavor makes desserts taste amazing. Try adding lemon juice and zest to a white or yellow cake mix. This subtle lemon flavor will remind you of one of your Grandmother's homemade cakes.
Homemade Cake Mix [Full Recipe]
If you love the convenience of boxed cake mix, but you prefer to bake from scratch then you'll enjoy our Homemade Vanilla Cake Mix Recipe. Below you'll find a list of all the ingredients you need to make the mix as well as the wet ingredients to turn the mix into a cake. For a finishing touch, top the cake with our Vanilla Buttercream Frosting. Store a few jars of the mix in your pantry for a simple, but still homemade, shortcut. This also makes a great DIY gift!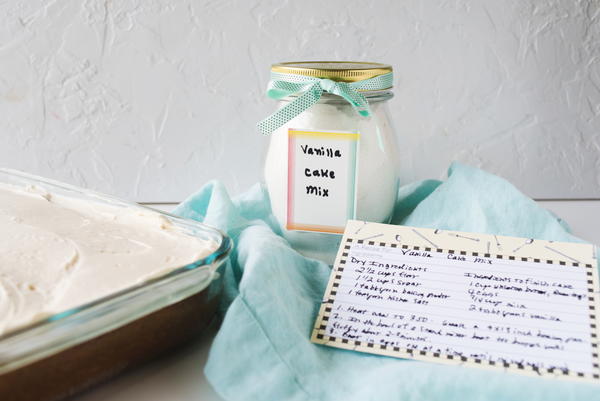 Homemade Vanilla Cake Mix Recipe

Yields: 20 servings

Preparation Time: 20 min

Cooking Time: 40 min

Cooking Vessel Size: 9 x 13-inch baking dish

Ingredients

For Dry Cake Mix:
2 1/2 cups flour
1 1/2 cup sugar
1 tablespoon baking powder
1 teaspoon kosher salt
 
Ingredients to Add to Dry Cake Mix:
1 cup unsalted butter, room temperature
4 eggs
3/4 cup milk
2 tablespoons vanilla
 
For Vanilla Buttercream Frosting:
1 cup unsalted butter, room temperature
1 tablespoon vanilla
16 ounces powdered sugar
2 tablespoons milk or cream

To Prepare the Cake

1. Heat oven to 350 degrees F. Grease a 9 x 13-inch baking pan.

2. In the bowl of a stand mixer beat the butter until light and fluffy, about 2-3 minutes.

3. Beat in the eggs one at a time until fully combined with the butter.

4. Add in the vanilla.

5. Gradually add in the cake mix ingredients, alternating with the milk, until just combined.

6. Pour the batter into the baking pan and bake for 35-40 minutes until golden and done when a wooden skewer inserted in the middle comes out clean.

7. Let cake cool.

8. While the cake is cooling, prepare the frosting.

To Make the Vanilla Buttercream Frosting

1. In the bowl of a stand mixer, beat the butter until light and fluffy. Add the vanilla and beat in.

2. Gradually beat in the powdered sugar, beating until sugar is incorporated.

3. Add in the milk or cream and beat until a light and fluffy consistency. Add a bit more milk or cream if needed.

4. Frost the top of the cake.

To get a printer-friendly version of this recipe, click here!
Southern Recipes with Cake Mix
Now that you know the hacks, test your knowledge on some cake recipes. These recipes all use cake mix in creative ways. No one will believe that these delicious cakes all started with boxed cake mix!

Shortcut Preacher Cake - This recipe from our Test Kitchen uses extra eggs, melted butter, and add-ins like cinnamon, pineapple, walnuts and coconut.
Southern Pig Pickin' Cake - This Southern cake gets its amazing flavor from the mandarin oranges that are added to batter. It's also topped with a fruity semi-homemade frosting.
Coconut Lemon Poke Cake - For a cake that uses add-ins in a creative way, try this poke cake. Food coloring and shredded coconut are added to the batter and the cake is frosted with homemade coconut whipped cream.
Ode-to-Elvis Poke Cake (shown) - This recipe uses extra eggs, softened butter, and peanut butter. The cake is also topped with a creamy pudding, sliced bananas, peanut butter, and even bacon.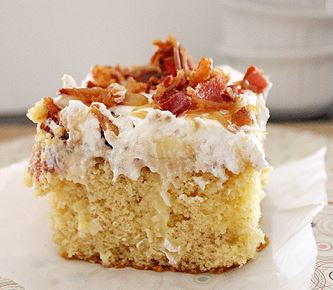 What's your secret to making a cake mix taste homemade?
Subscribe to Our Free Newsletter
Free recipes, giveaways, exclusive partner offers, and more straight to your inbox!

Report Inappropriate Comment
Are you sure you would like to report this comment? It will be flagged for our moderators to take action.
Thank you for taking the time to improve the content on our site.